CANCUN ALL-INCLUSIVE RESORTS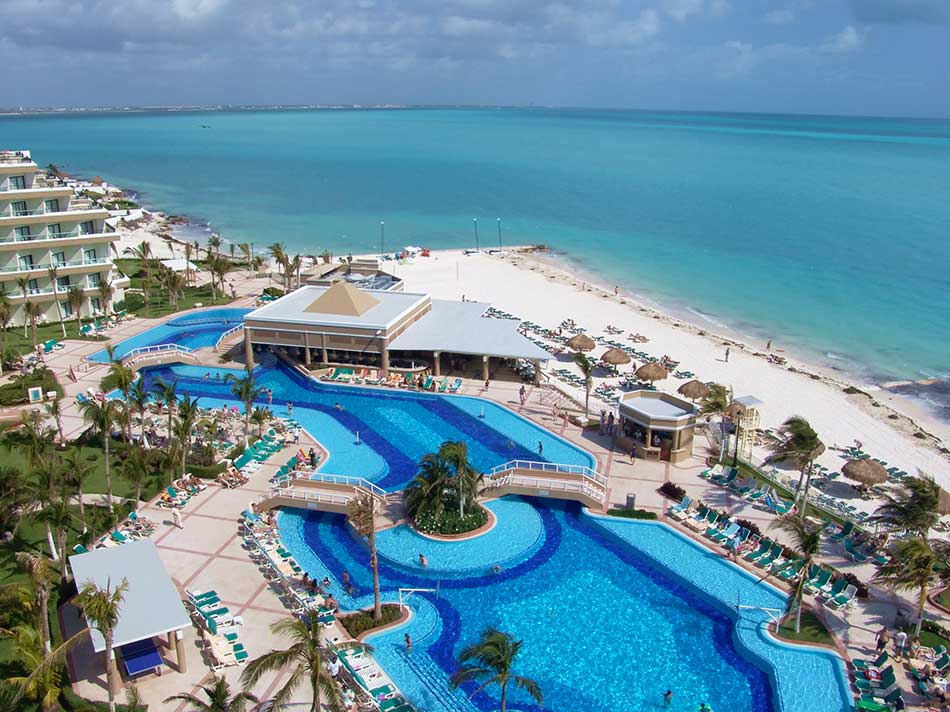 Year after year Cancun ranks the charts as one of the top places to visit in Mexico. The moment you step foot on the powdery white sand beach and take in the crystal clear Caribbean sea, you'll have no doubt about why. The real reason people love visiting the Yucatan Peninsula? The show-stopping all-inclusive resorts.
Cancun is an incredible getaway for couples, singles, and family vacations. All of them find themselves drawn to the idea of an idyllic beach vacation in a luxury resort. No need to lift a finger while on holiday, Cancun's all-inclusive resorts have everything you could possibly need.
If you do choose to venture away from the resort, many hotels offer tours, shuttle-services, or general tips and advice to nearby Isla Mujeres, Tulum, Cozumel, and a variety of Mayan Ruins.
What's an All-Inclusive Resort?
All-inclusive packages are what some of the larger resorts in Cancun offer, where you will pay ONE fee that covers your entire stay. In other words, your room, your meals, your drinks, and all of the hotel amenities are usually included in one flat fee. Most offer a variety of vacation packages for you to choose the level of inclusivity you'd like (for example, alcoholic beverages or not).
Why has this concept gotten so popular? Well, it can be very appealing that all the details are taken care of for you and you have very little to worry about! Booking an all-inclusive is a great way to totally unwind if you live a hectic, fast-paced lifestyle.
The following is what is generally included in the All-Inclusive plan:
All-you-can-eat at the buffet(s) [breakfast, lunch, dinner]

All-you-can-eat at any and all snack-bars

Mini bar snacks and drinks

Meals at the specialty restaurants

All non-alcoholic beverages at the buffets, hotel bars and entertainment facilities


Beach towels

Free use of snorkel gear

Free use of kayaks, boogie boards, etc.

Free use of training gym

Free use of beach chairs

Access to children's clubs

Scuba diving introductory lesson

Various activities (dance lessons, Spanish lessons, volleyball, soccer, bingo, games)

The following is not generally included in the All-Inclusive plan and has an additional cost:

Airport Transfer

Vintage wine and "top-shelf" spirits

Scuba diving (certification or two-tank dives)

Baby sitting*

Sailboats/catamarans

Motorized sea-crafts
*Kids Clubs are free while they are open.
Most hotels have more than one restaurant for you to dine in as part of your package; however some hotels also have a "special" restaurant which costs extra if you wish to eat there.
Most specialty restaurants also sell expensive wines if you are not satisfied with the house brands. You can also take your own bottle in with you if you desire.
There are usually different levels of guest packages (example: silver, gold, platinum). Depending on what level you pay for, that will determine the quality of alcohol you are served.
All-Inclusive Resorts Pros & Cons
Trying to decide if an all-inclusive resort is right for your next Mexican getaway? It all depends on what you're looking for in your vacation experience.
There are the obvious advantages to an all-inclusive, like not worrying about overspending or stressing about how much each drink or snack costs! There's little for you to arrange or organize and the trip budgeting is more streamlined. Another beautiful thing about a resort is that often the service is outstanding. You'll typically have your own server throughout the day, whether you're on the beach or by a fabulous pool. With that being said, please be generous with your TIPS.
TIPPING–this service is included in your stay. Similar to a restaurant, though, it is customary to make an additional tip. The men and women who tidy your room or bring your drinks and snacks work long hours for low pay, so don't be stingy.
If you're looking for privacy, be aware that a large all-inclusive resort falls short in that category. Depending on the time of year you book (holidays and Spring Break are the busiest), it can be very crowded. Maybe you like the party scene and having kids running around and splashing all over the place, or maybe you don't!
Due to the nature of all-inclusive resorts, many guests never leave the hotel grounds or see anything else that the Mayan Riviera has to offer. If you do decide to go out and explore, you may be grossly overcharged for taxi services from the Hotel Zone.
Without further ado, let's dive right into the 9 best all-inclusive resorts in Cancun, Mexico to see which one is ideal for your next vacation.
The Grand Fiesta Americana Coral Beach All-Inclusive Resort is one of the most popular places to stay in Cancun. Located beachfront in the Hotel Zone, guests particularly love the location of this resort.
Top amenities at the Grand Fiesta Include:
40,000 Sq. Foot Full-Service Spa, Including Hydrotherapy

On-Site Fitness Center

7 Dining Options

2 Swimming Pools

Babysitting Services

Beachfront Access
Check availability for this 5-star all-inclusive family resort.
Another popular family resort in Cancun is Estudio Playa Mujeres. While not every room on the property is beachfront, it is located on a golf course, so it's an ideal location for golfers. Another aspect that sets this resort apart is its very own water park and playground. This is truly a family-friendly resort that your family will love.
Top amenities at Estudio Playa Mujeres Include:
4 Swimming Pools

Room Service

Nightly Entertainment

6 On-Site Restaurants

Full-Service Spa
Check availability for this one-of-a-kind resort.
Atelier All-Inclusive Resort is an incredible 5-star resort right on one of the best beaches in Cancun, Playa Mujeres. Couples in particular really love their stay here. From high-end amenities to top-notch services, your holiday to the Riviera Maya will feel like luxury.
Top Amenities at Atelier Playa Mujeres Include:
Pet-friendly rooms

9 On-Site Dining Options

Suites with Private Hot Tubs

Oceanfront Views

Private Beach Area
Check availability for this world-class resort.
Turqouize is an adults-only resort in Cancun's hotel zone. While you'll be 9-minutes away from the beach at this resort, you'll hardly miss it with so many amenities this hotel offers. Even with the beach a stroll away, you still have incredible ocean views of the beautiful turquoise waters.
Top Amenities at Turquoize at Hyatt Ziva Cancun Include:
Pet-friendly rooms

Personalized Butler and Concierge Services

Spa with Massages and Body Scrubs

Infinity Pool

8 Restaurants On-Site
Check availability for this adults-only resort.
The Hyatt Zilara is another top-rated adults only all-inclusive resort in Cancun. From the moment you check-in until the moment you check-out, you'll be in great hands here. With plenty of activities to choose from throughout the day, you can decide to beach bum it on the private beach, or try everything on this hotel's schedule.
Top Amenities at Hyatt Zilara Cancun Include:
Nightlife Entertainment

1 Swimming Pool on Site

Private Beach with Incredibly Clear Water
Check availability for this adults-only resort.
This is the all-inclusive vacation you've been looking for! For non-smoking adults, this resort has it all. Located on 5-acres of beachfront property, only minutes away from downtown Cancun, Le Blanc Spa Resort is a fantastic all-inclusive hotel.
Top Amenities at Le Blanc Spa Resort Include:
13 On-Site Restaurants

3 Swimming Pools

Live Music and Entertainment
Check availability for this adults-only resort.
This eco-friendly resort has everything you look for in an all-inclusive resort. This is a great choice for a family-friendly vacation to Mexico. They have everything to keep adults and children entertained and happy during their stay.
Top Amenities at Riu Palace Peninsula Include:
5 Swimming Pools

8 On-Site Restaurants

Easy Beach Access

Kid's Activities

Adult Entertainment
Check availability for this family-friendly resort.
The Wyndham Alltra Cancun has a location unrivaled by most. This eco-friendly resort welcomes families looking for an unforgettable beach vacation. With daily and nightly entertainment, the kids, teenagers, and adults in your group won't spend a minute board.
Top Amenities at Wyndham Alltra Cancun Include:
8 Restaurants On-Site

1 Swimming Pool

Game Room & Playground

Water Park

Spa & Fitness Center
Check availability for this family-friendly resort.
This is the perfect all-inclusive resort for those looking to really sit back and relax while on vacation. With top-notch service, you'll have everything at your fingertips when you stay at Majestic Elegance Costa Mujeres. This is a high-end resort that your entire family will love.
Top Amenities at Majestic Elegance Costa Mujeres Include:
4 Swimming Pools

9 On-Site Restaurants

Swim-Up Bar

Full Service Spa & Fitness Center
Check availability for this family-friendly resort.
With these 9 incredible Cancun all-inclusive resort options, you'll be ready to have some fun in the sun while in an immaculate location. Whether you choose one of the family-friendly options or decide to make it an adults-only trip, you won't regret your decision to visit Cancun.