Mision Uxmal is located on a hill, and is surrounded by green areas and the region's characteristic vegetation, it has its rooms and restaurant oriented to the archeological zone. With a colonial style, the building has a horseshoe shape and the structure is distributed in four levels.
The hotel features 100 comfortable and spacious rooms with balcony for enjoying spectacular views to the gardens and ancient Uxmal temples. The perfect place for an alternative vacation.
It features a large lobby with red-tiled floors, big ceramic pots with plants, comfortable rattan chairs, large windows and a billiard table for entertainment of our guests. Enjoy your stay in this great place that takes you to the Mayan's glorious past times.
Services
Wedding Facilities
Laundry *
* Extra charges may apply
Restaurants & Bars
La Palapa: Nice bar by the pool that serves a great variety of beverages and snacks.
Los Mestizos: Our restaurant features colonial decoration, air conditioning and instrumental music. Offers regional, Mexican and international cuisine specialties.
Solarium: Snack bar with panoramic view of the ancient Mayan temples, from where you can admire the light and sound shows.
Location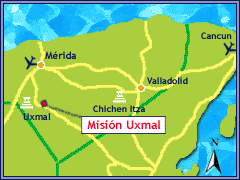 Mision Uxmal is located less than one mile away from Uxmal's archeological zone, one of the most famous Mayan sites, on the highway Merida-Campeche, 75 minutes from Merida International Airport and 48 miles from the city of Merida.
PRIVACY GUARANTEE
Your privacy is important to us. We will never share, sell, or rent information with any persons or organizations without your advance permission or unless ordered by a court of law.
Information submitted to us is only available to employees managing this information for purposes of contacting you or sending you emails based on your request for information and to contracted service providers for purposes of providing services relating to our communications with you.
TravelYucatan.com abides by the Safe Harbor framework as set forth by the United States Department Of Commerce regarding the collection, use and retention of information collected from the European Union by the TravelYucatan.com domain.