XOXOMILCO
One of the things I appreciate most about the Xcaret Experiences group is their focus to assure that guests receive a valuable and memorable encounter worth much more than the price of the entrance fees to their parks. This seasoned company is responsible for creating such local eco-parks as Xenotes, Xcaret, Xel-ha and Xplor, which each offer a spectacular setting within the enrapturing Riviera Maya.
Xoximilco is no exception. The park is designed to replicate the popular tourist attraction Xochimilco, meaning 'place of flowers' located just outside of Mexico City. Originally, the Aztecs had a challenge growing their crops due to the unfavorable growing conditions of this wetland region. With their marvelous innovativeness, these first settlers established a system of waterways and chinampas or floating islands on which they grew produce and flowers.
Trajineras or large, wooden boats steered by a pole (as in a gondola,) were used to transport the harvested goods to nearby markets. Eventually this serene network of canals, vibrant artificial islands and bustling markets garnered the attention of prominent and wealthy urbanites and travelers, who were happy to pay to board these boats and cruise the sublime waterways. Today, Xochimilco forms a piece of a cultural World Heritage site and attracts thousands of visitors with its well-preserved partly artificial, partly natural, picturesque landscape.
Knowing very little about Xoximilco, I managed to get a curious group of nine together to check out Xcaret's latest attraction. As we entered through the main gates, we were greeted with soft music provided by two acoustic guitarists stationed on a colorful platform decorated with fresh flowers. Two of the boys in our party enjoyed playing darts and foosball while the rest of us sampled a typical corn, mayo, lime and chile snack and waited to register and receive our bracelets.
Tip: Aim to arrive at the park at 7:30p.m. This gives you enough time to check-in, receive your bracelets and designated boat, as well as have a last minute bathroom break before boarding.
XOXIMILCO DISCOUNT TICKETS
THE RIDE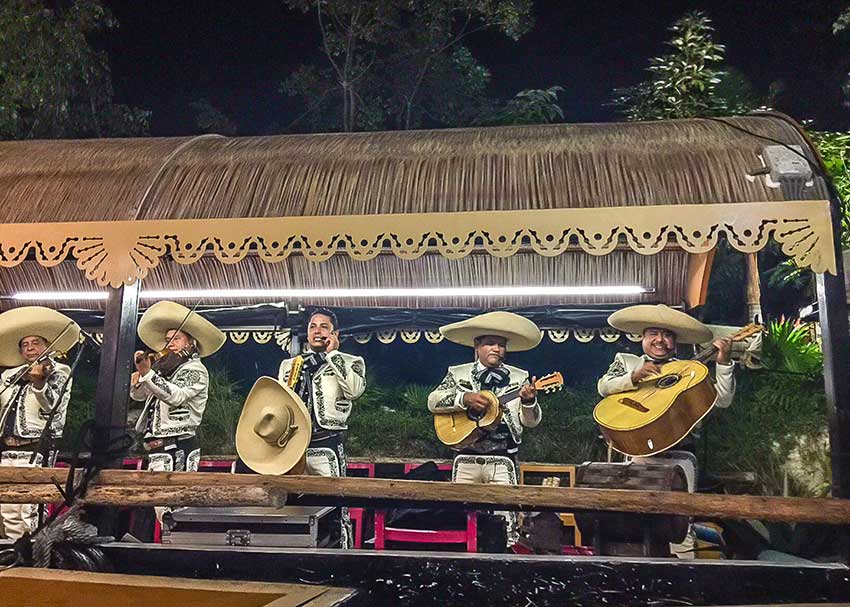 Not really having any expectations, I was pleasantly surprised by the lively atmosphere and beautifully lit up boats that awaited us down by the water. We asked about what types of beverages would be served and were told it was an open bar of tequila and beer. For the children, fresh agua de Jamaica (cold, sweetened Hibiscus tea), agua de Tamarindo (Tamarind juice), pop and bottled water would be available.
Note:  A Paloma (tequila with Fresca, lime and salt) is my drink of choice. But if you are not a fan of tequila or beer, other varieties of alcohol such as vodka, rum and wine are available for purchase at the convenience store 'El Jacalito' in the pre-boarding area.
Our crew was one of the final groups to climb aboard at approximately 8:15. We followed the parade of lights and sailed along through the canals towards the next stop on our gourmet and cultural journey. Our 2 hosts, one manning the pole that set the trajinera in motion, the other, making sure the drinks and ice were stocked, all-the-while regaling us with stories of Xochimilco and the history of the Mexico's music and food. I'm not sure who had the more difficult task – the guy having to push the full boat with its 20 passengers, or the one who had to coax some of our more reserved guests to belt out a 'Grito Mexicano!' This common 'Mexican Yell', is half call of the Mariachi, half laugh and fully fueled by tequila (you would definitely recognize it if you heard it!)
A Jarocho band, a musical style that originated in Veracruz, was perched upon the first artificial island on the tour. We were happy to hear the sounds of this peppy mix of Spanish, African and indigenous instruments as our host brought out the appetizer tray. A variety of dips including guacamole and squash blossom were presented with pork rinds and tortilla chips.
Continuing on through the tranquil network of canals, we came upon anchored trajineras full of spirited bands showcasing a variety of upbeat genres such as Ranchera, Norteño and Marimba (played on a xylophone instrument and my personal favorite.) The next courses came in a timely manner. The second offered unusual (at least where I come from!) nibbles of small, dried fish seasoned with salt, lime and chile, chapulines (fried grasshoppers popular in Oaxaca), and Huitlacoche (an edible corn fungus that lives on the cob of corn). Had I actually known what they were, I may not have been so inclined to devour more than my fair share of these delicious corncob tumors! That being said, they were very tasty and I'm glad I had the chance to sample this interesting Mayan dish.
Note: Quesadillas are also part of the long list of cuisine offered. You needn't worry if you have children in the group who are not so interested in trying new foods.
THE MEAL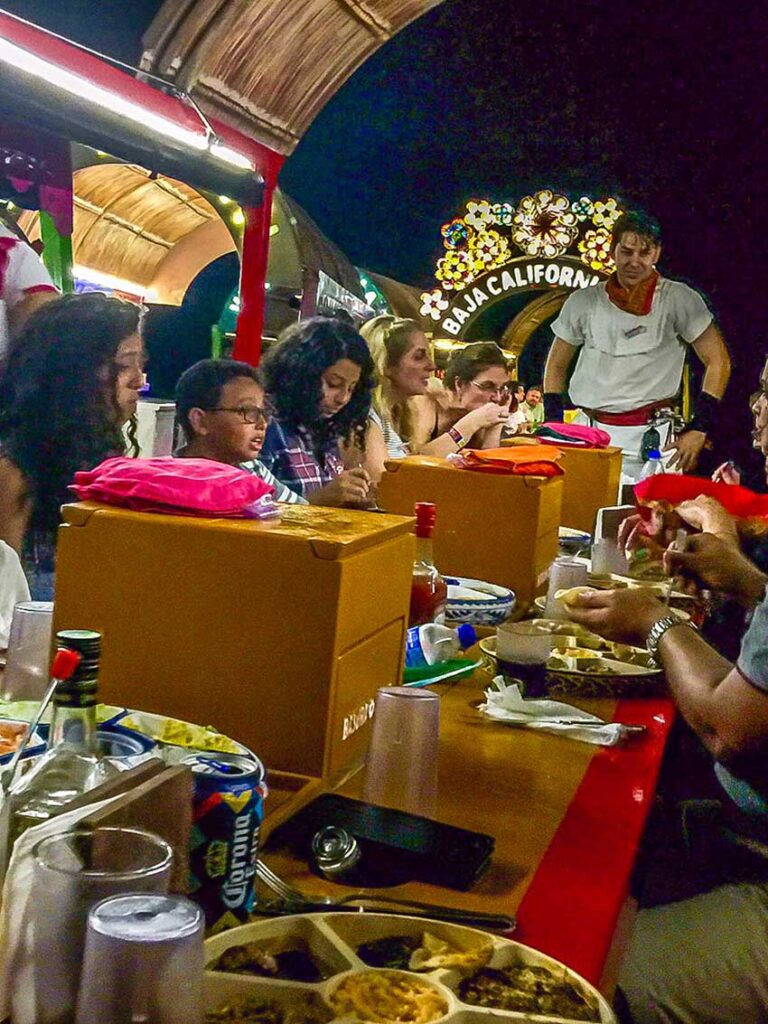 A break halfway through the tour allowed passengers to disembark and peruse the souvenir vessel, dance to yet another cheerful band of musicians and use the restroom. Once back on the flat bed boat, we played a shocking game of "Toques Toques." This strange game had participants holding on to what I can only describe as what looked like a set of battery chargers. Our mischievous host promised that no one would get hurt, so we trusted and each grabbed hold of the cord. He slowly turned the dial sending tiny shock waves down the line of leery guests. These mini charges caused the kids to jump and giggle. It turned out to be an innocent game, all in good fun.
Before the entrees were served, we also ate Nopal (Cactus) salad, ceviche (white fish cured in lime), and creamed cheese rolled in chaya leaves. The main course was a partitioned platter of chicken tomales, jumbo prawns in a tamarind sauce, cochinita pibil tacos, chicken in a mole sauce accompanied by Mexican rice. Everything was full of flavor and I was thrilled at the abundance of regional foods offered. After living in Playa del Carmen for four years, I have been fortunate enough to taste most of these popular, typical foods of Mexico. My mother however, who was in town visiting, had never tried many of these dishes and thought it was a delightful, culinary adventure!
But that was not all! On the way to the grand finale of the night, we were served a plate of desserts that included a sweet variety of Oaxacan chocolate, coconut candy, pine nut cookies, fudge and a creamy piece of flan (an egg custard with a caramel glaze – delish!) To conclude this divine dinner, we were offered "Café de Olla", a steamy cup of cinnamon and clove spiced coffee with a touch of piloncillo (raw sugar cane).
Tip: If you are vegetarian, please advise the Xoximilco representative at the time of your booking. They carry only a limited supply of extra vegetarian meals in the circumstance that some guests failed to notify them in advance. Therefore, it is best to confirm with them before the actual day.
THE ENDING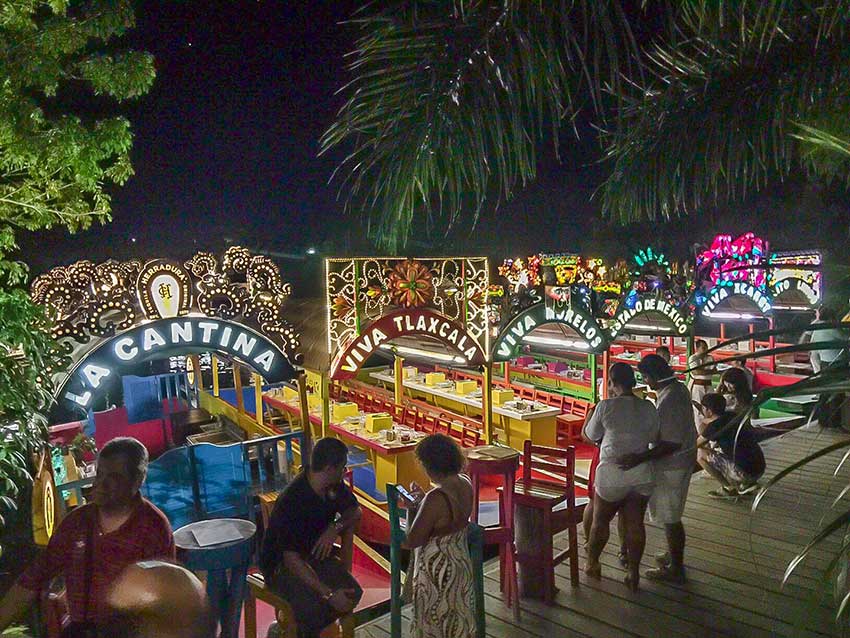 We glided on to the main spectacle of the night just after 11:00 p.m. Performing well-known Mexican songs that have been passed down through generations, was an eight-man Mariachi band dressed in their signature studded suits and wide-brimmed sombreros. We learned that Mariachi music is a typical style that originated in Jalisco, and that these delightful musicians are often a staple at any memorable event from weddings to baptisms.
This guitar and trumpet-toting group certainly knew how to engage the crowd and played rendition after rendition of traditional Mexican favorites. We danced and watched on as nationals from other boats gathered arm in arm to sing along to beloved songs that have long since been such an intricate part of their rich culture.
Xoximilco opens at 7:30 p.m. Monday to Saturday and the tour last approximately 4 hours.
From the moment we boarded these fantastical floating trajineras, each enthusiastic member of the Xoximilco staff did an extraordinary job of sharing with us insights into their proud heritage through their cherished music and food. The park employees are knowledgeable and personable, but audience participation is important if a night to remember is what you're looking for! DO explore the unique cuisine, DON'T be a stick in the mud, DO get up and dance!
Recommended: There is a strong possibility that due to the highly attentive staff, lively atmosphere and open bar at this ultimate Mexican fiesta, you may indulge in more tequila than you had originally planned. Please drink responsibly and have a designated driver, or hire a transportation service for your group.