The upscale golf and yachting community of Puerto Aventuras boasts a great location, among other things. It's safe and somewhat tucked away from the hubbub of other busy tourist destinations, yet it's within easy distance of main centers like Cancun, Playa del Carmen, Tulum, and the Cancun International Airport.
Puerto Aventuras is currently the only marina in the Mayan Riviera, and is known for being the region's hub for sport fishing tours.
PUERTO AVENTURAS HOTEL INFORMATION
Booking a vacation villa or condo is arguably the best way to enjoy all that Puerto Aventuras has to offer. The community mostly attracts well-off expat retirees, vacationing families, and snow-birds looking to escape the winter. Long-term rentals are common.
There are also several spa resorts and all-inclusives lining the coast, and a sprinkling of boutique hotels. Residence clubs are plentiful, with properties backing onto the 9-hole golf course or with incredibly gorgeous oceanfront views.
THINGS TO DO IN PUERTO AVENTURAS
Activities in Puerto Aventuras include golf, tennis, fishing and diving. Centered around the main marina there are a few small shops selling local crafts, restaurants, a pharmacy, and a few small grocery and liquor stores. There are also a couple of dolphin parks where you can kayak and swim with dolphins and manatees.
As for SCUBA diving, Puerto Aventuras has bevvy of multi-lingual instructors and dive masters, as well as state-of-the-art equipment and custom dive boats that ensure a safe and enjoyable experience. You have your choice of open water dives or cenote diving (cavern diving requires special certification). The reef is only about 100 feet from shore, so you can easily do several dives in a day with not a lot of transportation time needed.
Twice a week, there's a market at the main square in town, by the gazebo. Fresh fruits, vegetables and other local items are sold. There is also a small maritime museum with nautical artifacts that is very interesting to visit if you get a rainy day.
GETTING TO PUERTO AVENTURAS
Located on Federal Highway 307, Puerto Aventuras is just 20 minutes' drive south of Playa del Carmen. It's about an hour (77 km / 48 miles) south of the Cancun International Airport.
ADO buses and other public transportation (like colectivo vans), will take you as far as the town of Puerto Aventuras, but you will then need a taxi from the highway junction to get to your hotel. This applies whether you're coming from the airport or from Cancun, Playa del Carmen or Tulum.
The best way to get to Puerto Aventuras is by shuttle or taxi. If you plan on staying a while, renting a car is a good option.
PUERTO AVENTURAS RESTAURANTS
Most of the restaurants are clustered around the marina in Puerto Aventuras. You'll find independently-owned coffee shops (as well as Starbucks), gelato stands, great Italian restaurants, pubs, pizzerias, and of course Mexican restaurants.
The restaurants here have a unique vibe in that they're on the dolphin lagoon, with views of yachts, catamarans and fishing boats moored beyond the boardwalk. Come sunset, it's a beautiful setting for a memorable meal!
At the entrance to Puerto Aventuras, beside the gas station, there are a few restaurants as well. Here you'll find great shrimp tacos, fresh fish tacos, sub sandwiches and pizza.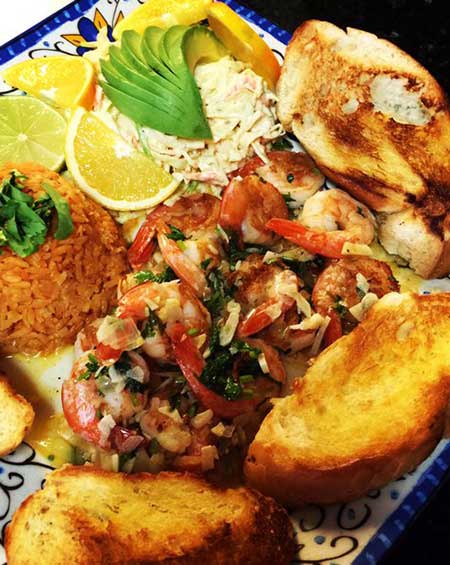 Fatima Bay is the main beach area, with over 1.5 miles of beachfront. It basically begins at Chac Hal Al condos and ends at the Hard Rock Hotel. The best sandy beaches are in front of Hotel Catalonia and Dreams Puerto Aventuras Resort & Spa. There is public access to these beaches.
Chan Yu Yum is a beautiful beach to the north, and is great for snorkeling.
The beaches around the two mouths of the marina are mostly pebbly and no swimming is permitted. It is exhilarating, though, to stroll out to the rocky points and watch the waves roll in!
Chac Hal Al inlet and beyond, which is located to the south of the marina, is principally private properties.
THINGS TO KNOW ABOUT PUERTO AVENTURAS
Puerto Aventuras has two currency exchange locations and a number of ATMs (located around the marina, at convenience stores, and at the gas station on the highway). Mexican pesos and American dollars are both accepted at the vast majority restaurants and shops.
On the west side of the federal highway (non-beach side), there is a good-sized community. This is where many workers, hotel staff, and fishermen live. The total population averages around 7,000 permanent residents.
A large grocery store (Chedraui), recently opened to service the Puerto Aventuras area. It's located in a strip mall on the highway junction. It sells some imported items, clothing, housewares, beach gear and alcohol. This is also where buses and colectivos stop en route between Playa del Carmen and Tulum.
VISITOR INFORMATION & TIPS
Visitors to Puerto Aventuras are checked in securely at the entrance gate (guarded 24-hours), and drive the short distance past the 9-hole golf course to the main marina. Shops and restaurants line the waterfront. The ambiance is luxurious–with groomed grounds, tennis courts, impressive vacation homes and condos–yet the feeling is still very relaxed and friendly.
HISTORY OF PUERTO AVENTURAS
The modern site of Puerto Aventuras as we know it didn't really exist before the 1980s. It first started as a staff settlement to house workers from nearby beachfront resorts. In the late 80s and early 90s it began to grow into a town as tourism in the area blossomed.
Puerto Aventuras plays a part in the region's rich history, spanning the Mayan era to the days of pirates, explorers and buccaneers. You can get a glimpse of it if you visit the Maritime Museum, located above the shopping area on the dolphin lagoon.
PUERTO AVENTURAS TRAVEL ARTICLES
Submit your Puerto Aventuras review

     
There are No reviews yet.