ENLIGHTEN YOUR SENSES AT XENSES
Parent company Experiencias Xcaret knows a thing or two about building larger-than-life parks throughout the Yucatan Peninsula. Their portfolio includes Xcaret, Xplor, Xel-Ha, Xoxomilco, Xenotes, Xichen and the newest addition Xenses. Very few visitors to the region don't participate in at least one of these adventure parks.
To make a big splash for the opening, Xenses invited the TV host of Brain Games Jason Silva to experience the park firsthand. Mr. Silva's feedback was impressive considering what he does on the show. We encourage you to watch this short 2 minute video of his experience to wet the appetite.
DISCOUNT XENSES TICKETS
Make sure to click the Book Now button to choose your preferred date. Keep in mind Xenses in not opened on Sunday.
Days Opened:  Monday – Saturday
There is no doubt this new park will awaken your imagination and challenge your perception with more than 15 activities. Visitors will explore the traditional five senses and many others most are not aware of.
Itching

Thirst

Mechanoreceptors

Chemoreceptors

Time

Kinesthesia

Synesthesia
Proprioception

Magnetoreception

Thermoception

Nociception

Equilibrioception

Hunger
ATTRACTIONS
Get to know different ecosystems at Xensatorium.

Have a fun walk through the Way of Dwarfs and Giants.

Hike through caverns in the Labyrinth of Underground Arteries.

Discover a space overflowing with nature at The Eden.

Take a tour through a Xítric Garden.

Visit an original Town.

Let yourself go with a Slip slide that refreshes you.

Live the zip-line that makes you feel like an eagle.

Try to swim in a salt river that keeps you afloat.

Enjoy like a child a mud river that covers you from head to toe.

In addition, be amazed by visual puns and optical illusions that will challenge your senses at all times.
LOCATION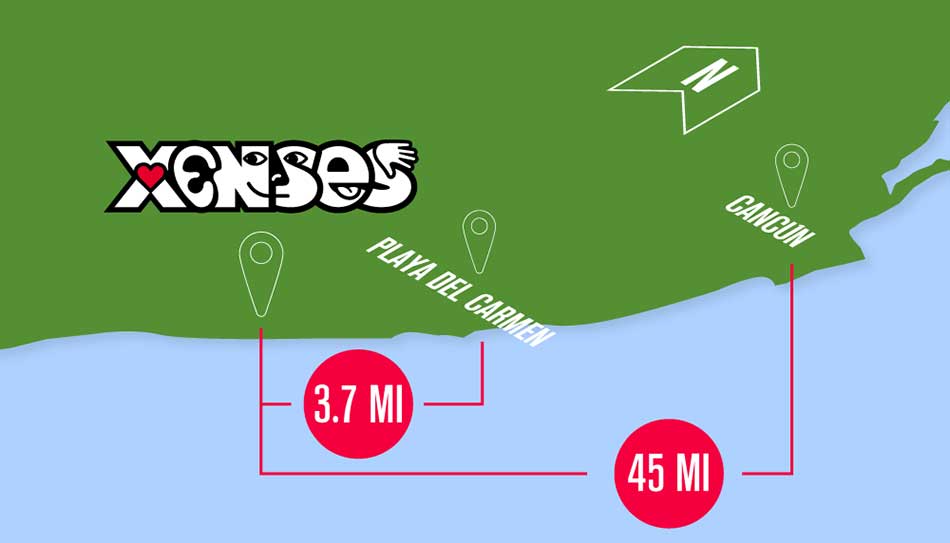 ADDITIONAL DETAILS
For your visit wear a swimsuit, water shoes and comfortable clothing.

Bring an extra change of clothes and a towel.

Use sunscreen and insect repellent that are free of the following chemicals.

Remember to bring cash or a credit card to purchase souvenirs of your visit or enjoy an original snack.

Visitors with disabilities should always be accompanied by a family member or friend that can assist them at all times.

Activities are not recommended for persons with heart problems, fear of heights, claustrophobia, those who get dizzy easily, persons with recent surgeries, back pain or who weigh more than 300 lbs. Zip-lines have a minimum height requirement of 4.5 ft and a minimum weight requirement of 88 lbs. Some activities are not recommended for pregnant women.

Children under 5 years old have free admission.

Slip and Bird Flight activities include water areas with a depth between 3.6 and 4.2 ft. It is recommended that for these activities, children under 4.2 ft tall who can't swim be accompanied by their parents at all times.

Bird Flight activity is recommended for children 5 years and older, as long as the harness fits them properly.

Reservations that are cancelled more than two days in advance of the date of visit are subject to a 10% administration fee. Reservations cancelled in 2 days or less before the visit date, or in case of a no-show, there are no refunds.

It is not possible to make date changes the same day of your visit.

If your admission is Without Transportation, choose the schedule that suits you to allow you time to completely tour the Park.

Lockers, restrooms and showers.