CANCUN ATTRACTIONS & THINGS TO DO
Many people think of Cancun solely as a tropical beach paradise, which it definitely is. However, Cancun teems with interesting places to go, exhilarating things to do, and in such vast variety that nobody's passion is denied.
Cancun has so many options for sightseeing and activities that it may be hard to choose just what to do on your vacation (not a bad problem to have)! Here we will highlight just a few glimpses of what Cancun has to offer – adventure parks, aquatic activities, museums and more!
Joya, the first-ever permanent Cirque du Soleil show outside of the USA, is a feast for the senses! Uniquely written and designed for the Mayan Riviera, this breathtaking spectacle is definitely the cream of entertainment options in the region.
If you've seen a Cirque show before, you know what a jaw-dropping experience it is! The acrobats perform fascinating feats, and every detail of the stage backdrop and costumes is absolutely perfect.
There are 4 different levels of tickets to choose from—VIP, Dinner + show, Champagne package, and Show only. All levels get to enjoy live music half an hour before the performance. Every seat in the intimate theatre provides an excellent view so you can be fully absorbed in the show.
For a special night out, we recommend the Champagne Package. A chilled bottle of bubbly (or wine), plus sensational appetizers will help you really savor the occasion!
The modern, air-conditioned theater is nestled in lush grounds featuring a beautiful waterfall. It's located near the Vidanta Resort on the federal highway between Playa del Carmen and Puerto Morelos; about 25 minutes from Cancun. Shuttles and taxis from your resort will take you there, or you can take aCirque shuttle (departures from La Isla Shopping Centre in the Hotel Zone). There is free parking and valet service available at the theatre as well.
Don't miss the chance to enjoy this top-notch artistic performance. More than just an evening's entertainment, Joya is an extraordinary experience.
Click for Additional Information and Tickets
Welcome to Cancun's all-inclusive water park, where you can splash up your trip with a little extra fun in the sun! Waterslides and a lazy river along with a wave pool offer plenty of excitement along with some relaxation. Also connected adjacent is a Dolphin Discovery pool.
Location: Southern end of the Hotel Zone, KM 2.

Venture into the history of tequila at this museum/restaurant. You can join in a guided tour Mondays and Wednesdays at 5:00pm. The tour (with tastings of course), traces the tequila process from the planting to aging and bottling.
Location: Kukulcan Blvd. in the Hotel Zone.
Drive your own boat through the lagoon and explore all kinds of hidden nooks in the mangroves of this Caribbean jewel. AquaWorld also offers diving, snorkeling, 'AquaTwister' (a jet boat ride out on the open ocean),  parasailing, flyboarding, deep-sea fishing and beyond.
Location: KM 3, on Kukulcan Blvd. in the Hotel Zone.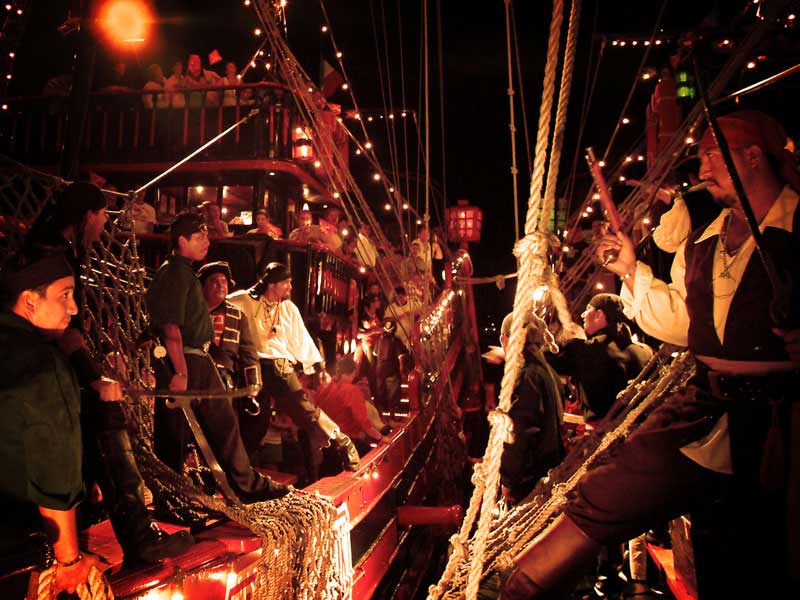 Experience a pirate adventure aboard three 98 foot 18th-century Spanish Galleon replicas! Each boat can hold 285 passengers where you will enjoy a lively pirate show, exquisite food and an entire evening of entertainment.
Location: Departures are from either Puerto Juarez or Marina Captain Hook at KM 5 in the Hotel Zone.

Location: About 5 kilometers south of the Cancun International Airport
Click For More Information and Tickets
Cancun has two bowling alleys: Bol Kukulcan in the Hotel Zone and Wol-Ha on Ave. Tulum downtown.
On an air conditioned yacht. You will be able to fish Barracuda, Gruper, Red Snapper, Dorado, Amberjack, Mackarel, Sailfish, Marlin, Wahoo, Tuna and more!
Take a horseback ride through the jungle and mangroves, beside lagoons and the Caribbean Sea. You can also ride a 4-wheeler, snorkel, bicycle or kayak around lagoons or swim in the pool. There is also a restaurant here so you can easily enjoy a full day of activities and not go hungry.
Location: KM 45 on the Cancun-Tulum federal highway.
Click For Information and Reservations for A Isla Mujeres Discovery Tour
Enjoy a cruise on a two floor classic paddlewheel. Experience a night of dancing to a live band, fine dining and a scenic lagoon cruise on this traditional Mississippi River Boat. Since it is on the lagoon it is very calm and enjoyable with stunning sunset views you will never forget.
Location: Departures from Aquaworld Marina. Aquaworld is located at km 15.2 on Kukulcan blvd.

The Interactive Aquarium is a fun place to visit and experience marine life like never before. Children can interact with sea creatures and visitors can swim with dolphins and feed sharks from inside a clear, protective, Plexiglas box, which is lowered into the shark tank!
Location:  Easy to find, the aquarium is located in the heart of the Hotel Zone in the Isla Shopping Center (KM 12.5).
Hours: From 10:30 am to 7:30 pm, with daily dolphin presentations at 7:00 pm.

For the best view of Cancun's coast and cityscape, you can go to the top of La Torre, a rotating tower at the El Embarcadero park and entertainment complex. If you want to get a good feel for the lay of the land and get some amazing birds' eye views, this is something you'll want to put on your list.
Location: KM 4 in the Hotel Zone
There are two "submarine" type experiences you can venture out in during your vacation. The 'Subsee' is basically a glass-bottom boat with a seating area well below the waterline but doesn't go underwater. This is a great choice if you want to see the spectacular Caribbean Sea flora and fauna, but feel more comfortable above the waves! You'll also get to admire an array of colorful reef fish, sea turtles, rays and even dolphins. Bookings are through AquaWorld Marina.
The other ship is a real submarine piloted by a professional and licensed crew. This fascinating underwater adventure takes you along the beautiful coral reefs, on a tour through the lagoon and into the sea to depths of 100 feet!
Atlantis Submarine Expedition
To fully enjoy this, you will have to commit most of your day, since you will be ferried over to the crystal clear waters of Cozumel. The reef here is absolutely pristine and teeming with colorful marine life!
Location: Carretera a Chankanaab (Chankanaab Highway), KM 4, in front of Casa del Mar Hotel in Cozumel.
Subsee Paradise
Departures from Aquaworld Marina.
Location: Km 15.2 on Kukulcan blvd.
CANCUN MUSEUMS
Cancun's Maya Museum & San Miguelito Archaeological Site
Cancun's Museum of Anthropology and History is located at KM 16 in the Hotel Zone.
Museo de Arte Popular Mexicano
A unique collection of masks, regional folkloric costumes, religious artifacts, nativity scenes, toys, musical instruments and gourd art.
Location: Second floor of the El Embarcadero Marina, Bulevar Kukulkan Km 4.
OUTSIDE CANCUN
There are several major attractions or parks that are not within Cancun itself. Some sites are accessible by walking, or you can take a taxi or bus if needed. If you don't rent a car to get to the parks listed below, the best choice is to book a tour.

This park is located just south of the city of Playa del Carmen (about a 45-minute bus ride south of Cancun). It's a well-designed park with zip-lining as well as ATV's and underground rivers you can raft or swim. This is an extremely active, fun-packed day! You can book a day or night fire tour.
Click For Information and Tickets
Click For Information and Tickets
MAYAN ARCHAEOLOGICAL SITES
Cancun has a few small Mayan ruin sites that you may see here and there. In order to really experience the Mayan culture though, you need to travel a bit further. We recommend you check out Xcaret, where costumed actors perform in a mock Mayan city and the traditional Mayan 'ball court' game is presented. Or visit Tulum where the ruins of an ancient Mayan holy city are perched on cliffs overlooking the sea.
If you head inland (west), you can see the world-renowned ruins of Chichen-Itza, Coba and Uxmal. These sites are each very impressive in their own way, but require time and some advance planning.
TravelYucatan.com offers tours to: Chicken Itza, Coba and Tulum only.
Visit our Mayan Ruins page to learn about additional locations within a reasonable distance from Cancun
OTHER ACTIVITY LINKS
Golf Vacation – If you love golf, you'll enjoy Cancun's championship courses
Deep Sea Fishing – Fish for Marlin, Wahoo, Tuna and more
Malls Markets & Shopping Information – Shop 'til ya drop in Cancun
Entertainment Guide – Live mariachi, folkloric dances and beyond
Clubs and Bars – Cancun has a vibrant nightlife