TOP THINGS TO DO IN PUERTO AVENTURAS
The exclusive and serene seaside community of Puerto Aventuras offers plenty to do, especially for nature lovers. It's a hub for water activities like deep-sea fishing, snorkeling, sailing and SCUBA diving.
Not far along the highway you'll find eco-parks, ancient Mayan ruins, and naturally beautiful swimming holes called cenotes. Would you like to shop a little? Visit nearby Playa del Carmen and check out famous pedestrian thoroughfare, 5th Ave. Staying in Puerto Aventuras means you're close to a variety of full-day and half-day excursion options!
WATER ACTIVITIES
SPORT FISHING
Deep-sea fishing in the Caribbean is an awesome experience. You're out on some of the most crystal-clear, stunningly blue water on the planet. You'll see sea turtles and flying fish in their natural habitat as you coast along the sparkling water. Even a bad day fishing is still great!
Sport fishing is easily the biggest draw for most visitors to Puerto Aventuras. As the only marina in the region, here is where you'll find the beautiful array of all kinds of fishing trawlers and modern sport fishing boats.
There are many sport fishing operators. The vessel captains and crew are all extremely well-qualified and love what they do! They'll try their hardest to land you mahi mahi, sailfish, barracuda, marlin or wahoo. The crew and office staff are also honest about conditions and endeavor to give you the best experience possible.
KAYAK OR SWIM WITH DOLPHINS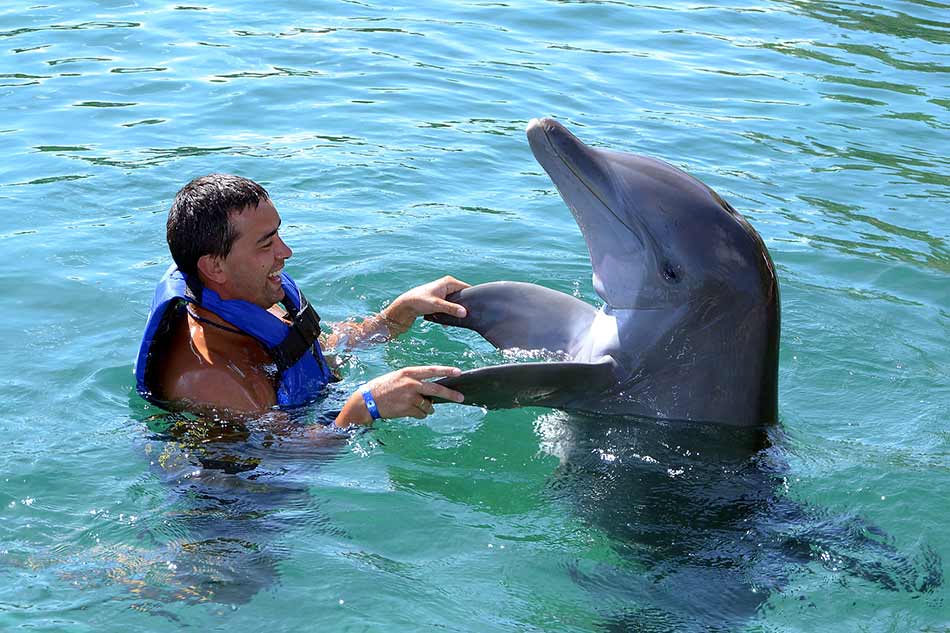 There are two Dolphin Discovery locations where you can interact with these friendly creatures. There are various packages to choose from, ranging from being propelled through the water by dolphins, or simply feeding them and posing for pictures.
Kayaking with dolphins is a great option if you don't want to get wet! Visit the secondary lagoon near the Dreams Puerto Aventuras Resort to check this out.
SNORKELING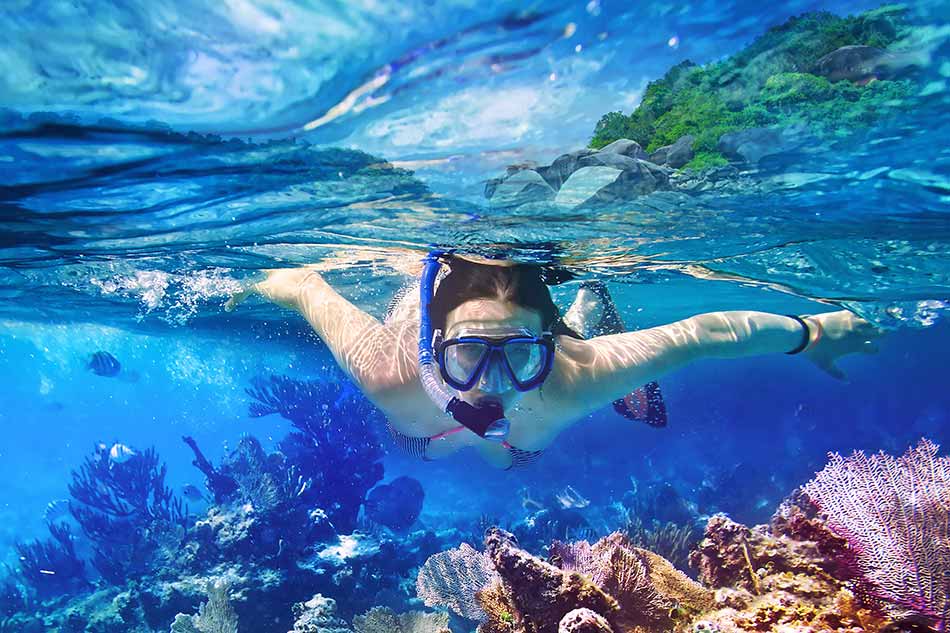 If you're looking for a self-guided snorkeling adventure, visit Chan Yu Yum. It's a public access beach on the north end of Puerto Aventuras. This is a fun and relaxing day the entire family will enjoy. If you haven't brought your own snorkel gear, you can rent some at one of the dive shops on the marina.
Dive shops around the marina offer guided snorkeling tours of the reef just offshore. Well-equipped boats will take you and your family to several snorkeling sites and provide you with life vests and all the gear you need.
DIVING
The reef in Puerto Aventuras is conveniently only a hundred yards or so from the beach. The first platform of reef is only about 60 feet [18m] deep and will offer all you'll want to see. For the more demanding diver, there's a second platform stretching to depths of 120 feet [36m] and beyond.
There are also some stunning cenote dives to be had in the area around Puerto Aventuras. This is a unique experience that you won't soon forget! These flooded subterranean caverns are impressive, with crystal-clear aquifer water and stalagmite and stalactite formations. Popular cenote dives include Ponderosa (also known as Eden), Casa Cenote, and Dos Ojos.
IN TOWN
GOLF
Puerto Aventuras Golf & Racquet Club has a well-maintained 9-hole course. The course, a par 36, is challenging enough to keep you engaged and is fun to play. Golf carts are not mandatory. Watch for exotic birds, iguanas and deer in the lush surrounding jungle--there are few little golf courses as beautiful as this one.
The tennis courts are kept in excellent condition and have synthetic grass. Both the golf course and tennis courts open at 7:30am and close around sunset.
WALKING TRAILS
Threading through and around the community are several walking and cycling trails. Some, like the ones alongside the road and marina, are paved, while others are merely packed dirt. All trails are well-maintained, with marked crossings at intersections for safety.
You can walk virtually anywhere in this little gated village; from the market to the beach to the tennis courts, etc. It's a wonderfully pleasant way to explore, beneath the shade of coconut palms and flowering jungle trees.
LOCAL MARKETS
Twice a week there's a market with fresh local fruits and vegetables. It's easy to find, located by the gazebo behind the dolphin lagoon, on Bahia Xcacel. Stroll over after your morning coffee and pick up some juicy mangoes, plantains, and dragon fruit.
Several times a day you can buy freshly-caught fish on the docks near the Pelican Point restaurant. This informal "fish market" is best visited at either 1pm or 5pm, when the fishermen return from their charters.
CEDAM MARITIME MUSEUM
Puerto Aventuras hosts the area's only maritime museum. This small but interesting museum features remnants of the many shipwrecks which occurred along the Mayan Riviera's coast. It also displays artifacts and photos about early SCUBA divers who explored the shores of Puerto Aventuras.
Your kids might enjoy seeing the ship cannon and display of old coins! (Yar, matey!) It's free to look around, but is assisted by donations.
DAY TRIPS
ECO-PARKS
No doubt you've heard of Xcaret, Xplor or XelHa. These gorgeous eco-parks offer visitors a chance to explore the wild beauty of the jungle and the sea as well as learn about the Mayan civilization. Each has its own focus or theme, so you can visit the park that sounds right for your family, or bundle them all together in a package for a week of fun!
None of the parks are very far from Puerto Aventuras. XPLOR [18km north] is an energetic action-packed adventure with ziplines into waterfalls, ATV driving across suspension bridges and through caves, and swimming in underground rivers. XCARET is about the same distance [also north] and features a replica of a Mayan city complete with costumed actors, horseback riding, exotic birds and animals you can interact with, and an amphitheatre with evening performances. XEL HA [27 km south] incredible snorkeling in a protected cove, river tubing, ziplining, cliff jumping and SNUBA.
CENOTES AND RUINS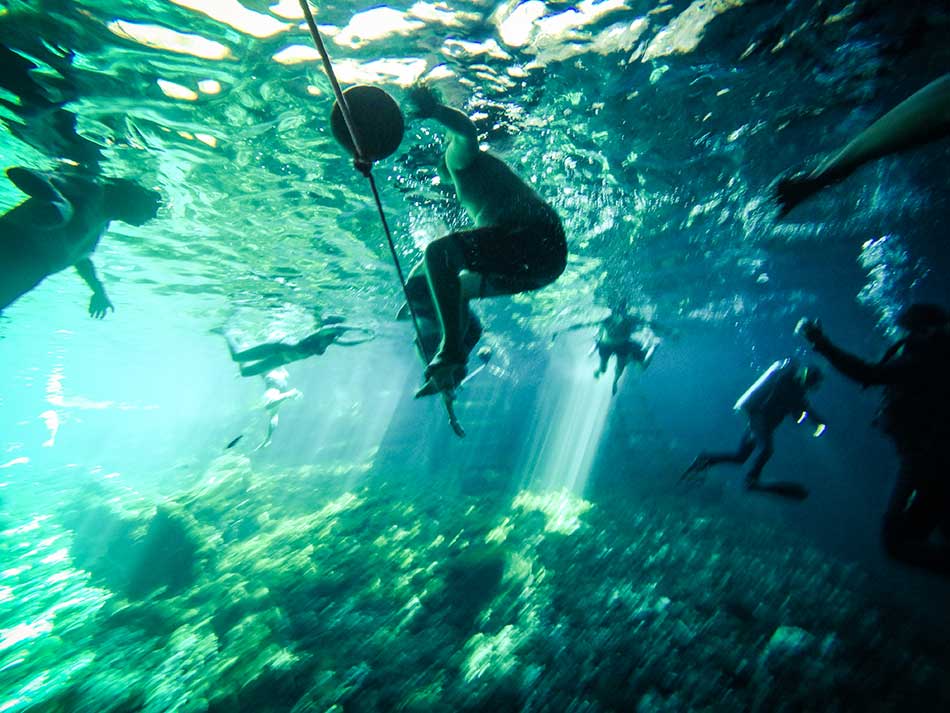 The most popular cenotes, all less than about 10 minutes' drive of Puerto Aventuras, are Eden, Cenote Azul, Cristallino and Dos Ojos. These are all clustered near each other, south on Highway 307. Chikin Ha and Kantun Chi offer a variety of both enclosed (cave) and open cenotes.
Chakalal Cenote has some excellent snorkeling and is picture-perfect with a small Mayan temple overlooking the water's edge.
For more impressive Mayan ruins, visit Tulum, the ancient walled city perched on oceanfront cliffs. It's about 45 minutes south down Highway 307. Visit these ruins in the morning before it gets too hot, then take a dip in the water lapping at the foot of the cliffs.