CAVE & CENOTE DIVING
CAVE DIVING
The Yucatan is noted for its famous spectacular formations and the amazing clarity of the water.In the Jungles nearby the ancient city of Tulum lie the 2 longest underwater cave systems known on earth. Creatures found nowhere else on the planet have been discovered in these caves.
Akumal is located in the middle of one of the finest regions for cave and cavern diving.
Cave diving is an extremely hazardous sport. For further information on "Cave Diving the Yucatan", refer to The Quintana Roo Speleological Survey (QRSS) supports safe exploration, survey and cartography of the underwater caves and cenotes of Quintana Roo, Mexico. Created in 1990, the QRSS maintains an extensive archive of cave survey data for over 167 underwater caves and cave systems.
Asociacion de Prestadores de Servicios Acuaticos
APSA is the Riviera Maya's Association of Dive and Water Sports Operators. As APSA members, we are business professionals dedicated and committed to ensuring your safety, providing quality service, and preserving our precious environment.
El Proyecto de Buceo Espeleologico México y América Central [also known as "Mexico Profundo"] was founded by Jim Bowden in 1982 to advance knowledge of water filled caves and related features in México and Central America.
Exploration includes mapping and surveying as well as a study of the geology, biology, and hydrology of each system. The Proyecto incorporates advanced and diverse underwater technologies including the creation and utilization of customized dive tables, computer technology, side scanning sonar, rebreather applications, and studies in hyperbaric medicine and physiology.
CENOTES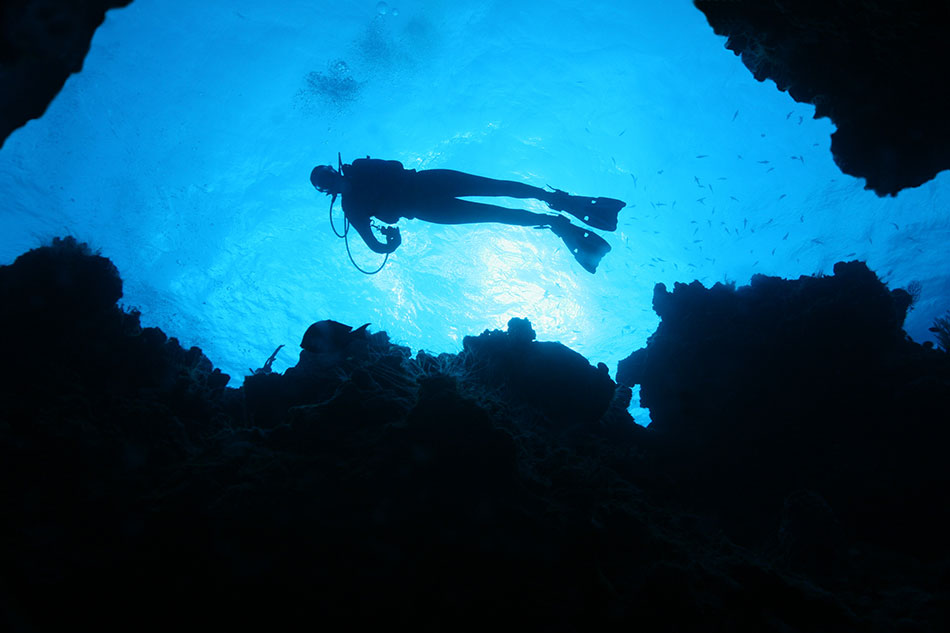 Cenotes are fresh water pools connecting to submerged caverns and other cenotes. The standard formation is a round hole in the ground.
The cenote at Chichen Itza is a perfect example of the round sink hole formation. This cenote is probably the most well known and most visited as it is located at the Chichen Itza ruin site and easily accessible – but you can't dive here.
Often referred to as lagoons and ponds they are common all over the peninsula being most common in the Mayan Riviera. Of value to the early inhabitants these ponds were a source of fresh water and their connection to the source was of a mystical nature.
If you fly over the peninsula you will observe that whereever you see a cenote you will see the outline of ancient villages long gone.
SOLUTION CAVERN
– Naturally acidic groundwater seeping through cracks in the limestone bedrock dissolves areas of softer rock lying beneath the hard surface crust. Over time, this process creates large underground caverns roofed with only a thin layer of surface limestone.
YOUNG CENOTE – As erosion continues, this thin roof eventually collapses, leaving an open, water-filled hole.
MATURE CENOTE – Over thousands of years, erosion gradually fills the cenote with organic and mineral debris, reducing its depth. The Cenote of Sacrifice is currently in this stage.
DRY CENOTE – As erosion continues, the cenote may completely fill, becoming a dry, shallow basin supporting trees and other vegetation.
*Cenote diagram and description Courtesy of the Science Museum of Minnesota
CENOTE DIVING
There are a number of reasons that make cenote diving attractive to the diver:
Diving conditions are not effected by weather.
Moderate water temperature [77f].
Barely discernible currents.
Large caverns and passageways.
Excellent underwater visibility.
There are two distinct forms of cenote diving:
Cave Diving
Swimming into a cave beyond the reach of natural sunlight.
Cavern Diving
Staying in sight of the entrance of a cave within the realm of natural sunlight.
To cavern dive a diver must either be a certified cavern diver or be accompanied by a certified cavern diver. Most accessible cenotes open to the public are equipped with a permanent line to serve as a reference on a tour.
All necessary equipment for open-water diving is needed as well as two battery lights and a line reel.
Cavern diving courses involve two days instruction and four dives. A full cave diving course is taught over a week with a minimum of 14 cave dives.
Specialized training agencies include:
NACD National Association of Cave Divers
NSS National Speleological Society
Not all Maya Riviera dive operators are qualified cave diving guides or instructors. Be sure to check before you go diving.
CENOTES OPEN TO PUBLIC
Chac Mool (Claw of the Jaguar)
Location: 22 km south of Playa Del Carmen/Almost across from Puerto Aventuras.
Description: 2 cenotes. Large cavern zone with beautiful views of jungle from inside cavern.
Open: 10-5 daily.
Facilities: Bathrooms, Restaurant.
Snorkeling: Yes. Larger of 2 cenotes offers view to large room.
Entrance Fee: Yes.
Ponderosa (El Eden)
Location: 3 km south of Puerto Aventuras.
Description: Exceptionally beautiful. Short walk on path takes you to Coral Cenote, which has a large island in the center of it.
Open: 10-5 daily.
Facilities: Bathrooms
Swimming: Very easy access. Nice overhang with tree that can be scaled to jump into cenote.
Snorkeling: Excellent. One of the most popular snorkeling sites. Unlimited visibility. Wide variety of fish, eels, turtles & aquatic plant life.
Entrance Fee: Yes
Chikin Ha (Points of Direction)
Location: 5 km south of Puerto Aventuras just before Xpu-Ha/Across from Barcelo Maya Hotel/Long way down bumpy road.
Description: Footpath through jungle will take you to some other cenotes – one is big & almost dry with lots of fossils.
Facilities: None.
Swimming: Can swim through tunnel to underground air chamber.
Entrance Fee: Yes.
Kantun Chi
Location: Just past Chikin Ha Cenote.
Description: 4 mostly half dome cenotes (Kantun Chi, Zaskaleen, Uchil Ha, Zazil Ha) along a series of light jungle trails. Most remote one has ancient looking Mayan temple next to it. Several tours stop here.
Facilities: Restaurant, bike rentals, horseback riding, small zoo.
Swimming: Not very inviting.
Snorkeling: Yes. Rental equipment available.
Entrance Fee: Yes
Cristalino
Location: Just past Kantun Chi/Close to highway.
Description: Beautiful, very primitive & rarely visited. Good for hanging out. Will probably have place to yourself. Likely to see more locals than tourists.
Facilities: None.
Swimming: You can dive into cenote from 3.5 m (15 ft) tall ledge.
Entrance Fee: Yes
Azul
Location: Just past Cristalino Cenote/Close to highway.
Description: In light jungle setting with more open air/sunlit than Kantun Chi, which creates more algae.
Facilities: Snackbar.
Entrance Fee: 30 pesos.
Taj Mahal
Location: 26 km south of Playa Del Carmen/5 km south of Puerto Aventuras/Just south of Xpu-Ha.
Description: 4 interconnected cenotes.
Open: 10-6 daily
Facilities: Bathrooms, Restaurant.
Snorkeling: Advanced. Requires swimming 5 m underwater under a rock wall to come into a large open cave with that has light shining through from ceiling above.
Entrance Fee: Yes
Dos Ojos (Hidden Worlds)
Location: 48 km south of Playa Del Carmen/3 km south of Xel-Ha/On right 4 km down dirt road.
Description: Part of Nohoch Nah Chich cave system. Location of filming for Imax Journey into Amazing Caves documentary.
Open: 10-5 daily
Facilities: Bathrooms, restaurant.
Snorkeling: Superb. Very popular. Stalagtites & Stalagmites everywhere.
Entrance Fee: Yes
Temple of Doom (Calavera/Skull)
Location: 2 km from Tulum on road to Coba on right/Very rugged rocky unmarked jungle path approximately 50 yds from road.
Description: 3 holes in ground (one 30 ft & two 4 ft in diameter) create skull shape, hence the name. Shaded by thick jungle canopy.
Facilities: None
Swimming: Great. 10 ft drop down into cenote. Rope swing & ladder – though may want to bring your own rope just in case.
Gran (Sac Aktun/White Water)
Location: 5 km from Tulum on road to Coba on right.
Description: Ladder steps lead to half moon shaped cenote decorated with small passages & openings. One of most popular sites. Good for all ages. Shallow on one side/deep on other. Famous for brilliant speleothem decorations & crystal clear water.
Open: 10-5 Daily
Facilities: Bathrooms
Snorkeling: Fun. Fantastic. Spectacular. Paradise.
Entrance Fee: Yes
Car Wash (Aktun Ha/Water Cave)
Location: 8 km from Tulum on road to Coba/4 km past Gran Cenote on left.
Description: Can drive right in approximately 30 m (100 ft) to cenote & locals used to wash vehicles here, hence the name.
Open: 9-5 Daily
Facilities: Bathrooms
Swimming: Very easy access. Like a small lake. Good. Fun.
Snorkeling: Good in winter months. Too much algae growth in warmer months. Many small tropical fish.
Entrance Fee: 20 pesos.
Cristal (Naharon)
Location: 4 km south of Tulum on right.
Facilities: Bathrooms
Swimming: Great
Snorkeling: Great
Entrance Fee: Yes. Includes entrance to Escondido across the street.
Escondido (Mayan Blue)
Location: 4 km south of Tulum on left/Across from Cristal Cenote/2 km walk in Jungle.
Description: Tarzan & Jane style. Beautiful, crisp, clear, secluded. One of least known.
Facilities: Bathrooms
Swimming: Good
Snorkeling: Good. Some great stone formations.
Entrance Fee: Included in Cristal entrance fee.