YUCATAN PENINSULA BUS INFOROMATION
Mexico has an excellent bus service, far superior to Canada or the U.S. It is also the cheapest way to get around Mexico.
Traveling on a bus can be an interesting experience as well. You have the opportunity to meet some unique people. For example on any given ride you could be seated next to a family of Mayas dressed in traditional clothing on their way to a festival. Or you could sit next to that bohemian x-judge from New York who abandoned his former lifestyle to live on a farm in Mexico and grow mushrooms. And don't be surprised if that quiet Mexican sitting next to you is not university educated and speaks fluent English.
BUS SCHEDULES
On-line Bus Schedules can be found at ADO. The website is ONLY available in Spanish and you can only buy tickets online if you are a Mexican resident.
As of now the ONLY way to purchase ADO Bus Tickets is in person at a terminal.
THE BUS SYSTEM
There are several classes of buses in Mexico and many bus lines. Not all lines service everywhere. There is a bus rating system, however like the resort rating system it is completely arbitrary and the ratings are generally posted by the bus line that would be obviously biased. When selecting a bus service you can either select a bus that is traveling where you want to go at the time you wish to go or you can select a bus based on the quality of the service. Some buses are brand new luxury vehicles while others are rickety jalopies however, it is nothing like Cuba and they do not have pink camels [a strange long pink tractor trailer used as a bus].

HIGHWAY SERVICE
Long-distance buses are called camiones. ADO, Omnibuses de Mexico, and Primera Plus are some of the major first class bus lines, there are others. These services operate between Cancun – Playa del Carmen – Chetumal – Campeche – Merida -Cancun.
There is also the mini-bus line [Colectivo], which runs up and down the Mayan Riviera from Cancun to Tulum. This is simply the cheapest way to get around the Riviera. It costs 100 pesos to go from Cancun to Playa del Carmen and it costs 15 pesos to go anywhere around the Riviera. What you do is walk out to the highway regardless of what resort you are at or what beach you are camping on and stand on the side of the highway in a safe visible spot. When ever you see a van approaching wave your arm. Usually the driver will flash his lights as a signal to you asking you if you need a ride. The van will stop and the driver, always a guy, will jump out and open the van door for you. You get in the van and sit.
I love traveling in the mini-vans because it is a lot of fun watching the faces of new tourists as they enter the bus, always apprehensive and unsure of what to expect. Along the way you will stop and either pick up or drop off people in the middle of nowhere. One time a guy got on the bus with his guitar and starting playing and singing. Soon everybody on the bus was singing some traditional Mexican song. It was like a party.
The way it works is you tell the bus driver where you want to get off, however, do not expect him to always remember. Watch for your stop, as you may have to yell when you get there. The drivers generally do not speak English. You pay the driver when you exit the van. The driver always gets out to open the door for you. Air-conditioned vans are presently being phased in.
Because the Cancun – Tulum strip is the tourist zone the mini-van bus service runs all day almost every 15 – 30 minutes during the day. Other routes are run less frequent.

LOCAL SERVICE
There is a bus system in Cancun, Merida, Chetumal and Campeche. There are bus-stop signs and you pay when you get on the bus. The best thing to do is find someone that speaks English and ask him or her what to do. We have never had a Mexican give us false advice although do not expect every person you ask to have the information you need. Most buses have the route and major stops on the front windshield.

DISTANCE TRAVEL
Most people choose first-class for any appreciably long distance, and second for short trips or if the destination is too small for first-class buses to stop. But you should certainly not be put off second-class if it seems more convenient – it may even prove less crowded and less expensive. It just takes a little longer, as they stop for anyone standing on the road waiting for a bus.
NOTE TO BACKPACKERS – Cristobal Colon now has new 1st class buses just as nice as ADO.

FIRST CLASS BUSES
"Primera Clase"
These delux or pullman buses are equivalent to Greyhound with reserved seats and baggage check. They also have toilets and TV although the TV's sometimes are not used or the TV show is in Spanish. Bring your own TP.

SECOND & THIRD CLASS BUSES
"Segunda Clase"
The main difference between first and second class is the number of stops – second-class buses call at more places, and consequently take longer to get where they're going – and the fare, which is about ten percent higher on first-class services, and sometimes a lot more.
Second class buses are usually old first class buses but don't be surprised if by chance you see an old bus from "your" city bombing down the highway with Mexico painted on it. Surprise, they bought one of your old city's buses. This would be a second or third class bus. These buses are sometimes old school buses or vehicles from Europe.
They tend to stop in each village or when flagged down. You pay the driver or his helper when you get on and you will receive a bus ticket. Hang on to the ticket, sometimes you are asked to show it during the trip.


PLUS CLASS BUSES
"Plus Clase"
Similar to First Class buses with names like Primera Plus or Turistar Plus these usually have TVs and toilets, and the seats are reserved.

LUXURY BUSES
"Clase Lujo"
Luxury buses do not run on every line. These buses have reserved seating, TV, toilets, lots of legroom, a stewardess, air-conditioning, and refreshments.
First and Plus class buses stop infrequently. They connect major destinations and do not generally stop in small villages. On some routes the First & Plus class bus may use the expensive and faster toll road, while lower classes may use the slower free road.

BUS STATIONS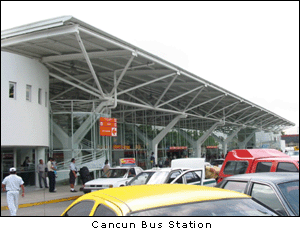 Cancun, Playa, Merida, Chetumal and Campeche all have major bus stations known as the Central Camionera or Central de Autobuses.
In smaller places you may find separate first- and second-class terminals, or individual ones for each company, sometimes little more than a cabana or bus stop at the side of the road.
In almost every bus station, there is some form of baggage deposit (left luggage) office – usually known as a guardería, consigna or simply equipaje. Before leaving anything, make sure that the place will be open when you come to collect your stuff. There is security, however don't push your luck. Never leave your passport, any personal documentation or valuables in a bus station locker. Quite often the person breaking into a bus station locker in Mexico is not a Mexican but a foreigner. There are actual full time thieves who spend their time traveling, running scams on tourists as they themselves play the part of a tourist.

BUYING TICKETS
You have to go to a bus station to purchase your ticket. You cannot do this over the telephone or online unless you are a resident.
1. Locate and go to the bus station.
2. Either know exactly where you wish to go or write it down on a piece of paper.
3. Stand in the right line. You will notice that there are lines in front of ticket windows with a sign above the window. see images above The bus company name, destinations and times are listed on the signs and you stand in the line that has your destination with the bus company you wish to travel with.
4. Tell the ticket clerk where you wish to go or hand them your piece of paper with the destination and time of departure you wish.
5. The clerk will first tell you if there are any seats available. Then they will either show you a computer screen with numbers on it [these are seats] or show you a cardboard printout of the bus seating. You are to choose your seat.
6. The clerk will then ask for your name, which will be printed, on the ticket.
7. The clerk will then print out a ticket for you and you pay for the ticket.
NOTE: Sometimes you can't buy your ticket until the bus arrives as the ticket seller does not know if there are any seats available.
If you can manage it, try to get a seat at the front of the bus for two reasons. You get on and off the bus faster and you can look out the front window.
Terms to look out for on the timetable, besides local and de paso, include vía corta [by the short route] and directo or expresso [direct/non-stop]. Salida is departure, llegada arrival.
The cost is US$3-4 for every 100km covered.
If you stand in the UNO line then this is what your bus would look like waiting for you in the loading zone.
DEPARTURE
Arrive at the bus station at least 15 minutes before your bus leaves. Your bus may or may not be at the station when you arrive.
At some stations you check your bags at the baggage counter. You will receive a ticket for every bag checked. At some stations the baggage clerk will do this as you get on the bus. He will be standing outside next to the bus. He will give you your ticket. Still at some stations there is no baggage check and you simply place your bags in the storage compartments and retrieve them yourself.
At some stations you check your bags at the baggage counter. You will receive a ticket for every bag checked. At some stations the baggage clerk will do this as you get on the bus. He will be standing outside next to the bus. He will give you your ticket. Still at some stations there is no baggage check and you simply place your bags in the storage compartments and retrieve them yourself.
Get in the line and go out to the bus-loading zone. Look at the front of the bus to make sure it is the right bus. All buses have the destination on the top left-hand corner of the front windshield. Sometimes more than one bus can be departing at the same time so check the front of the bus so you don't stand in the wrong line.

MEXICAN HOLIDAYS
Since bus travel is the most economical means of transportation in Mexico you can expect that during holidays, Mexicans take full advantage of the service. Buses will be packed and if you are thinking about traveling by bus during a holiday you should attempt to book your seat well in advance if you can. If you do not you may have to juggle your plans around or be prepared to take what buses are available to you regardless of schedule.

AIR CONDITIONING
This is a no-win situation. If the bus has air-conditioning then it will be freezing and you can catch a cold or the air-conditioning will be broken which means it will be a raging inferno. The only air in on a bus with a broken air-conditioner is to keep the front door open.
TIP: It is a good idea to take a travel blanket or jacket on the bus with you.
If you go to Mexico during July-August and decide to travel by bus to Guatemala-Belize then you want an air-conditioned bus.

THINGS THAT CAN HAPPEN TO YOU
Sometimes when you make a transfer you are literally let off in the middle of no-where. This can be a desolate stretch of highway miles from any town or main highway. You can be all alone. The bus you are waiting for can be late or broken down at the side of the highway.
Finally the bus arrives but it is totally packed and you have to stand up near the front door, which is left open because it is so hot inside. There is not a single person on the bus who speaks English and you cannot for the life of you pronounce the name of the place you want to go to and you lost your map back at your last bus-camp.
You are surrounded by a group of old ladies dressed in traditional Huipils. They are not impressed with you. You gaze out the window trying to appear not out of place in this scenario hoping that you will see a sign. It gets dark and there are no lights. The bus hits a pothole and the front right headlight stops working. The old ladies are talking, you know they are talking about you. You smile, mumble some incomprehensible words, your charm is ineffective here. Finally one of the old ladies smiles at you and says something. The other ladies laugh, you laugh.

BUS STATION LOCATIONS
Cancun
The Cancun Bus Station is downtown on the corner of Avenida Uxmal and Avenida Tulum.
Playa del Carmen
The older station is at 5th and Juarez and the new station is at 20th Avenue
between Calle 12 and Calle 14.
Tulum
The Tulum Bus Station is on the highway towards the south end of town.
Chetumal
The Main bus station in Chetumal is 20 blocks from the town center on Insurgentes at Ninos Heroes.
Buses to Flores in Guatemala also leave from the main terminal.
Buses for towns in Belize leave hourly from the Venus Bus Line (mornings) or Batty's (afternoons) in Lázaro Cárdenas market, in the city center.
Combis for Bacalar, Río Hondo and Majahual/Xcalak leave from the Terminal de Combis on Hidalgo at Primo de Verdad.
Other, smaller combis are scheduled to depart for Majahual/Xcalak from C 16 de Septiembre at Mahatma Gandhi.
The larger of the first-class stations, CAME, is on Calle 70, between calles 69 and 71.
Merida
Merida has 5 bus stations, two 1st-class stations and the rest 2nd and 3rd class.
The ADO 1st call station is called "CAME" and is located on Calle 70, between Calle 69 and 71.
The other 1st-class station is the small Maya K'iin used by the bus company Elite. It is located on Calle 65 no. 548, between Calle 68 and 70.
The 2nd-class bus station is around the corner from the CAME on Calle 69, between Calle 68 and 70. You get the bus to Uxmal here.
To get to Progreso and Dzibilchaltún you go to the "Estacion Progreso", Calle 62 #524, between Calle 65 and 67.
The trip to Progreso takes an hour by second class bus. There are also some colectivos to Dzibilchaltún that you can pick up beside the San Juan church, south of the main plaza off of Calle 62.
To get to and from Celestun you catch the bus at the Celestun Station at Calle 71 #585 between Calle 64 and 66.
Izamal
Near the central plaza.
Buses departing hourly for Mérida, between 4:30a.m. and 7:30p.m. Fares are $13
Campeche
The 1st-class ADO station is located on Avenida Gobernadores.
The easiest way to get to this bus station is to take a taxi and ask the driver to take you to the "ADO" estacion autobus.
Valladolid
The new station in Valladolid is located at Calle 37 at Calle 54 and the old one is at Calle 39 at Calle 44.

GETTING TO CANCUN BUS STATION FROM THE AIRPORT
NEW – ADO [bus line] now offers 1st class bus transport from the airport to the Cancun bus station located in downtown Cancun.
Taxi from Cancun bus station to the airport is around a half an hour drive.
You can also take a shuttle bus service that will drop you off at any hotel.