CANCUN MEXICO AIRPORT – CUN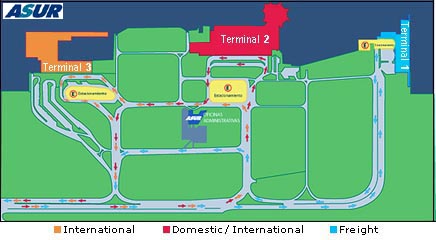 IATA code:
CUN
Airport Name:
Cancún International Airport
ICAO Reference Code:
4E
Runway:
12-30 = 3500m X 60m (11483 x197 ft)
Elevation:
6 m (20 ft)
Largest Aircraft
B-747-400
B-777-300
Runway Capacity
– operations per hour:
34
Operating Hours:
24 Hrs
Number of stands:
47 in total: 33 (Terminal 2); 14 (Terminal 3)
a) Contact stands:
30 in total: 19 (Terminal 2); 11 (Terminal 3)
b) Remote stands:
17 in total: 14 (Terminal 2); 3 (Terminal 3)
Terminal Area:
Terminal 2: 45,603.6m2 (490,871.05 sq ft)
Terminal 3: 42,263.8m2 (454,758.49 sq ft)
Check-In Counters:
Terminal 2: 134
Terminal 3: 84
Width of Taxiways:
23 m
Aircraft Rescue & Fire
Fighting Service Category:
IX

Official web site for: Cancun International Airport
WELCOME – BIENVENIDO
Cancun International Airport is composed of three terminals. Terminal 1 is the old terminal and is used for private airplanes and freight.
Terminal 2 is for Mexico's domestic flights and International.
Terminal 3 is for International flights only.
You arrive and depart through either terminal 2 or 3.
The airport is located around 12 miles [19 km] from Cancun City, approximately a � hr drive.
Both terminals are easy to navigate [due to their small size] clean and modern.
Cancun's International Airport is Mexico's first airport to have the capacity to handle simultaneous takeoffs and landings on two runways. The control tower, more than 315 feet tall, will be among the 20 tallest in the world, allowing improved efficiency in runway-use time assigned to aircrafts, beneficial to both passengers and almost the 150 domestic and international airlines.
It is the best Latin America airport and is among the top five in the world.
An important motor for regional development; in the last nine years, the airport invested more than $361 million dollars.
The airport had 170,600 square feet of terminal-building area; it now has 387,140 square feet.
AIRPORT RULES – THINGS TO KNOW
There is no smoking allowed in either Terminal 1 or Terminal 2 until you exit the buildings.
You are not permitted to take photographs anywhere in Arrivals. You are permitted to photograph in the main part of the terminals and Departures.
You cannot sit on the baggage carousel while you wait for your bags.
Public intoxication is not permitted. They will escort you to security and make you wait.
Current Weather Conditions: Cancun International Airport
ARRIVALS
For info on Arrivals including on-line flight schedule see: Cancun Airport Arrivals
DEPARTURES
For info on Departures with on-line flight schedule see: Cancun Airport Departures
DOMESTIC BUS SERVICE
Busses run between the airport and:
Cancun City Central Bus Terminal [ADO]
Playa del Carmen [ADO]
The cheapest way out of the airport is on the official "ADO" red/grey buses going to Cancun City central bus terminal or Playa del Carmen.
Ticket window is located Just outside of Terminal 2 Baggage claim exit [Go Right then look left for the "ADO" Airport Shuttle Counter]. Tickets sold in the exit lounge area in Terminal 3 after you clear Customs.
Buses leave for Downtown starting at 6:15am from Terminal 3 and 6:30am from Terminal 2. Buses start at Terminal 3 then stop at Terminal 2 before going to destination. The buses to Cancun City run every 30 minutes until 12:30am. Transit time approx 35 minutes.
Playa del Carmen direct service starts at 10:30am from Terminal 3 and 10:45am from Terminal 2. This service runs every HOUR until 10:15pm [last direct run]. Transit time approx 1 hr depending on highway traffic.
Service to Playa del Carmen earlier or later than the direct service, is also available by connection through Cancun City central bus terminal.
CHARTER BUS SERVICE
Charter busses go directly to hotel/resorts.
TERMINAL SHUTTLE BUS
Inter-Terminal Shuttle between Terminal's 2 and 3 runs every 20 minutes, from out in front of each terminal. The shuttle is free.
TAXI
Taxis are not permited to park at any of the airport terminals. HOWEVER, there is a taxi stand outside the front main entrance/exit where you get the terminal shuttle bus and there are taxi signs inside the terminals. These are not for taxi "cars" but transfer services [vans or small buses].
BLACK-MARKET TAXI
If you are standing in front of the International Terminal you may be asked if you need a ride. This may be an airport employee/taxi guy or simply somebody with a car. Costs are relatively the same as a legal taxi.
CAR RENTALS
Not shown on the map above but on the other side of the International Terminal parking lot is where the car rental agencies are. [Car agency rental booths are located inside the terminals.]
TERMINAL 2 MAP
TERMINAL 3 MAP
CANCUN AIRPORT FACILITIESS
Facilities and sevices for both terminals include food court, restaurants, bars, banks, duty free shops, convenience stores, beauty parlor, VIP lounges, business center, video arcade, tourist information booths, restrooms, lockers, medical services, vending machines, public phones and money exchange.

For Restaurant info see: Cancun Airport Restaurants

For Duty Free info see: Cancun Airport Duty Free

For VIP Lounge info see: Cancun Airport VIP Lounge

For Lost & Found info see: Cancun Airport Lost & Found

For Medical Services info see: Cancun Airport Medical Services


3-1-1 for carry-ons = 3 ounce bottle or less (by volume) ; 1 quart-sized, clear, plastic, zip-top bag; 1 bag per passenger placed in screening bin.
One-quart bag per person limits the total liquid volume each traveler can bring. 3 oz. container size is a security measure.
Declare larger liquids. Medications, baby formula and food, and breast milk are allowed in reasonable quantities exceeding three ounces and are not required to be in the zip-top bag. Declare these items for inspection at the checkpoint.