The Top 5 Isla Mujeres Adults-Only Resorts
Sitting off the coast of Cancun is the stunning Caribbean island, Isla Mujeres. Just a quick boat ride from mainland, Isla Mujeres, or Island of Women, might just be your ideal Mexican destination. If you're looking for a beach getaway where you have the perfect mix of tranquility but still well within access to bars, restaurants, and shops, Isla Mujeres is for you.
The easiest way to get to Isla Mujeres is via a 20-minute ferry from Cancun. Some all-inclusive resorts will arrange private transportation from the airport to make it even easier to arrive. Once you're on the island, golf carts are the preferred means of transportation. You can either get a ride from your hotel or resort, or rent your own golf cart to explore at your leisure.
While you're on the island, we highly recommend you take a break from relaxation in your hotel to:
Go beach hopping
Get scuba certified
Snorkel at Playa Mujeres
Swim with whale sharks
Hang out in the city center
Visit MUSA (Underwater Museum of Art in Isla Mujeres)
Enjoy the National Park El Garrafon
Now let's dive into the top adults-only resorts on Isla Mujeres you'll love for a kids-free vacation.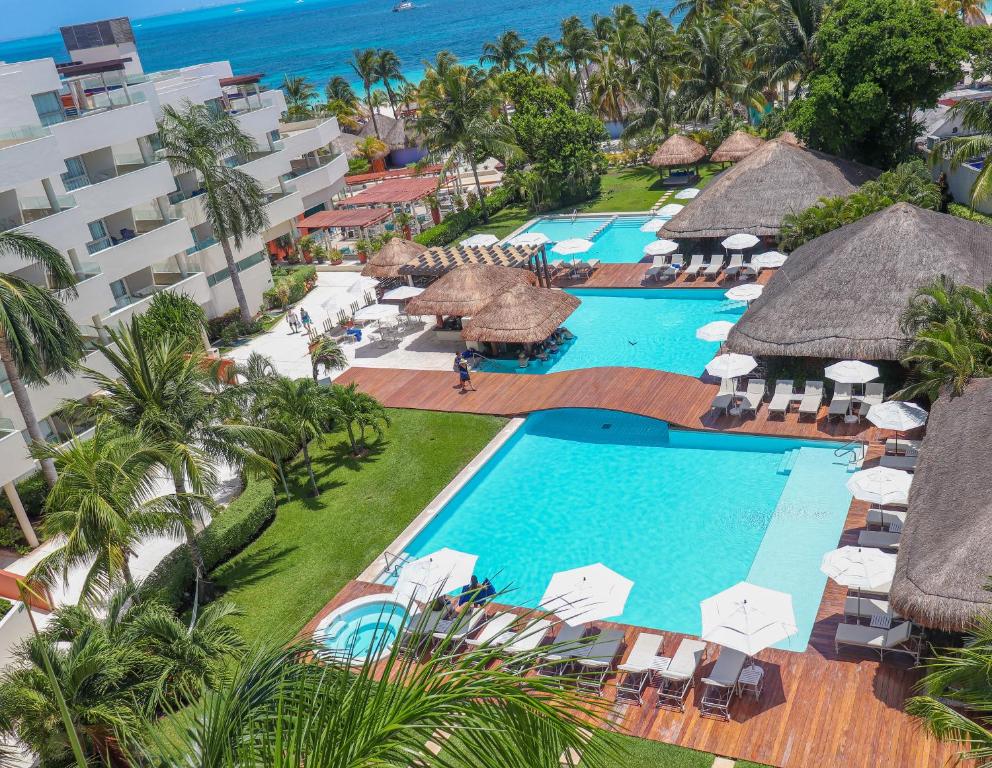 Located right on the beach, you'll be able to wiggle your toes in the white sand beaches just steps away from your room. At this luxury resort, you'll get high-end service and pampering, perfect for a romantic getaway. With a beach bar and restaurant and another at the pool, you'll have plenty of options for delicious cocktails and fresh seafood with the view of your choice.
Top Amenities at Privilege Aluxues Include:
4 On-Site Restaurants
1 Outdoor Swimming Pool
Wellness Center
Snorkeling and Scuba Diving
Breakfast in the Room
Check availability to book your adults-only getaway to Privilege Aluxes.
Located near the ferry port, Bahia Chac Chi is a great adults-only hotel. With ocean view rooms of the Bay, this is a great choice for a solo getaway or one spent with your loved one or best friend. Just a short distance away from Playa Norte, you'll be within walking distance from many attractions, restaurants, and shops in Isla Mujeres.
Top Amenities at Bahia Chac Chi Include:
1 On-Site Dining Option
Free Wifi
Concierge Service
24-Hour Front Desk
In-Room Desk
Check availability to book your adults-only getaway to Bahia Chac Chi.
Easily one of the best Isla Mujeres hotels, Lotus Beach Hotel is the beachfront hotel ideal for adults looking for luxurious yet laid-back beach vacation. Located on the northernmost point of Isla Mujeres, from the moment you check-in, you'll love this Mexico destination. Take advantage of their tour desk to book a trip to National Park El Garrafon or local Mayan archaeological sites.
Top Amenities at Lotus Beach Hotel Include:
1 On-Site Restaurant
2 Swimming Pools
Private Hot Tub / Jacuzzi in Some Rooms
Massages & Wellness Center
Room Service
Check availability to book your adults-only getaway to Lotus Beach Hotel.
More of a boutique hotel than anything, Hotel Francis Arlene is a small mom and pop hotel that you won't find anywhere in the world other than Quintana Roo. Many guests love this property thanks to the friendly staff and central location. You'll be able to escape the heat in the air conditioning or head directly to the beach, just a short walk away from the property.
Top Amenities at Hotel Francis Arlene Include:
Express, Private Check-In
Organized Tours
Free Wifi
Daily Housekeeping
Check availability to book your adults-only getaway to Hotel Francis Arlene.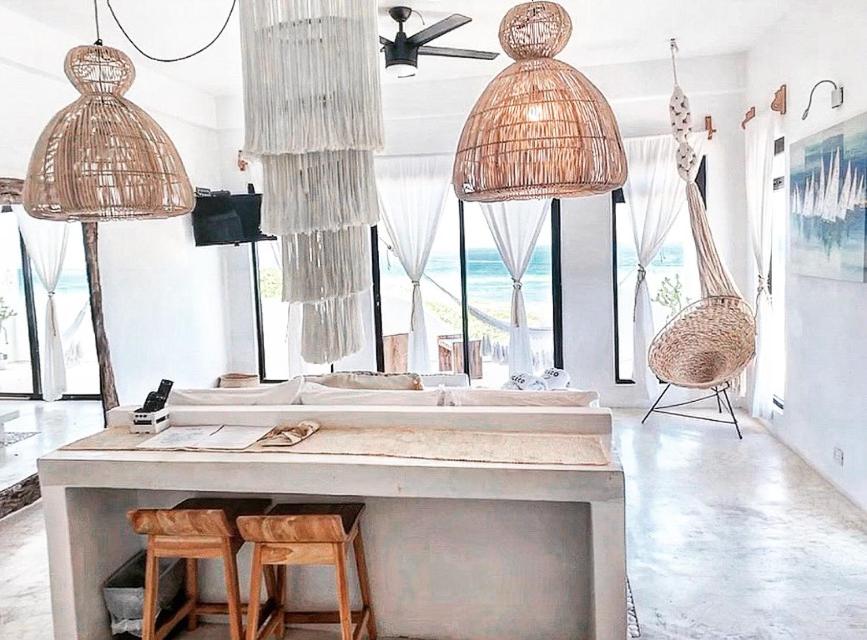 Get ready to soak up the views from this oceanfront hotel. Regardless of the room you choose, you'll get great sea views to enjoy from sunrise to sunset. The interior decoration is clean, white, and beachy. You're sure to feel comfortable and at ease while relaxing from your room or rooftop beach club.
Top Amenities at Icaco Island Village Include:
Rooftop Swimming Pool & Hot Tub
Picnic and BBQ area
Kayaking
Spa & Wellness Facilities
Bike Rentals
Check availability to book your adults-only getaway to Icaco Island Village.
Isla Mujeres is a dream destination on the Caribbean Sea. As the farthest place east in Mexico, it's known as Sunrise Island, since it's the first place in Mexico to see the sun each day. For a fun alternative to your typical Cozumel or Playa del Carmen vacation, Isla Mujeres is the perfect place for your next adults-only holiday.