Valladolid is a small, laid-back city located midway between Merida and Cancun in the State of Yucatan. Established in 1543, Valladolid was originally located near a lagoon, but after complaints from Spanish settlers about the mosquitos, the city was moved to its current location two years later. Named a pueblo mágico, or magic town in 2012, Valladolid is rich with traditions, boasts Moorish-style architecture and is a wonderful city to explore.
 Valladolid is also one of the closest cities to Chichen Itza and makes a beautiful base from which to head out to the site.
VALLADOLID HOTEL INFORMATION
For a relatively small city Valladolid has quite a selection of hotels. Most boast a colonial feel, which speaks of Valladolid's past, with rooms set around arched inner courtyards and furnished in a period style. A number of boutique hotels have also begun to spring up in the city. These interesting accommodations combine the colonial essence of the city with a more modern feel and unique design features. There are also a few straightforward, budget options for those just passing through the city quickly.
The Coqui Coqui hotel on Calzada de los Frailes, has one opulently elegant room complete with a freestanding bath, plunge pool and spa.
THINGS TO DO IN VALLADOLID
Valladolid is a pretty and laid-back city that is easy to explore, with a scattering of museums, monasteries and plazas to visit. It is located in an area rich with cenotes (sinkholes) and has the unique feature of a cenote within the city center. It is possible to visit and swim in a number of cenotes in one day and many tours offer this experience pre-organized. From Valladolid it is also easy to visit the magic town of Izamal and the Mayan archeological zone of Chichen Itza, with many travellers using Valladolid as a base from which to explore these impressive sites.
Cool off from the city heat, sitting on a love seat, under the shade of the trees in the plaza and simply watching the world go by.
GETTING THERE AND AROUND
Valladolid's location midway between Cancun and Merida makes it easy to get to via Mexico's highway system. A new highway between Playa del Carmen and Merida has also made reaching the city from the coast quick and easy. In addition, the site of Chichen Itza is only a 45-minute drive from the city. While there is no airport, buses leave multiple times daily for Merida (2 hours), Cancun (2 hours 15 minutes), and Playa del Carmen (2.5 hours). There is also one first class ADO bus daily to Chichen Itza (more at the weekends), with a return journey later in the day.
Valladolid is a small city that is easy to explore on foot, with many of the points of interest within walking distance of one another. Visitors can also rent bicycles or taxi inexpensive taxis if the heat gets too much.
VALLADOLID RESTAURANTS
Valladolid's gastronomy is rich in the flavor and traditions of the Yucatan region. With local favorites including pavo en relleno negro (turkey served in a black sauce made from chilies), cochinita pibil (shredded pork marinated in citrus juices and annatto-seed paste) and the breakfast special, huevos motuleños (fried eggs served in tomato sauce with black beans, cheese, ham and peas). Restaurants generally serve regional dishes and range from small family run comedors to more upscale eateries, but all maintain the laid-back vibe of the city. If you are looking for something other than Yucatec cuisine there are also a couple of Italian or international restaurants in the city.
Despite the climate, food can be quick rich and heavy so you may prefer to eat a few small snacks through the day rather than large meals.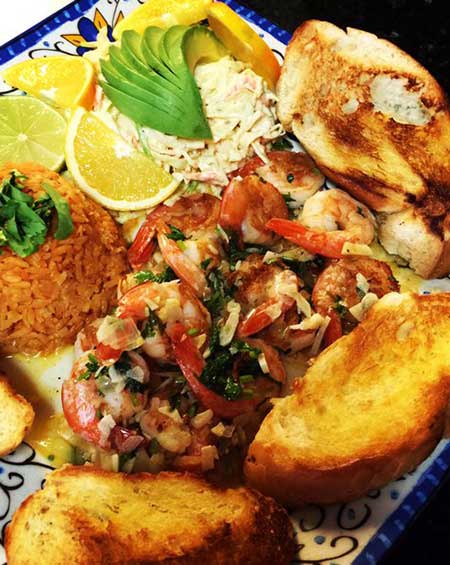 VALLADOLID NIGHTLIFE
After nightfall locals sits outside their houses conversing with the neighbors and cooling off in the heat of this tropical city. The main plaza buzzes lightly with families taking a stroll or local musicians busking for tips. There are one or two bars in the center and on the weekends a few late night bars and discos open their doors, however, Valladolid is much quieter than some of the more touristy towns in the region.
Take a stroll down Calzada de los Frailes at sunset to arrive at the San Bernadino Convent as the sky lights up in multiple colors. All the way along the Calzada you will be able to greet locals sitting outside their houses and chatting together.
THINGS TO KNOW ABOUT VALLADOLID
VISITOR INFORMATION & TIPS
HISTORY OF VALLADOLID
For such a seemingly laid-back city Valladolid has quite a fiery history. Initially established in 1543, next to the lagoon of Chouac Ha and named after the then capital of Spain, the city was moved to its current location due complaints by the settling Spaniards about the amount of mosquitos in the area.
Its relocation resulted in the destruction on the Maya town of Zaci and the Spaniards reused the stones to build present-day Valladolid. The displaced Maya attempted to revolt but were crushed by troops that were called in from Merida.
Maya discontent may have been extinguished at the time but it stirred under the surface. Almost 300 years later, the native Mayans rioted once again against the Spanish, killing and looting and in 1848 the city was ignited by the War of the Castes that spread through the Yucatan. Latinos were forced to abandon Valladolid, although they would return again once the city was retaken later in the war.
Nowadays Valladolid is a tranquil city, nicknamed the Sultan of the East due to its stunning colonial and Moorish-style architecture.
In 1910 the city played a role in the Mexican Revolution, with the Dzelkoop Plan, which called the people to rise up against the government, being signed there.
VALLADOLID TRAVEL ARTICLES
Submit your Valladolid review

     
Feb 24, 2017
Great view of colonial Mexico
Our driver took us to Valladolid to show us a great example of colonial Mexico. The city has some great history and architecture. We didn't stay terribly long but it had some unique shops and restaurants. Loved the architecture there.