WHERE TO GO IN THE YUCATAN PENINSULA
STATES
Yucatan
Campeche
Quintana Roo
COASTAL REGIONS
Mayan Riviera
Costa Maya
The Mexican name for the Atlantic coastal region of the Yucatan Peninsula is "Riviera Maya". The English use is either Mayan Riviera or Maya Riviera. It is used all three ways in this web site.
To view a larger more detailed map please see: Yucatan Peninsula Map
GENERAL OVERVIEW
Cancun is a relatively new city having just been built within the last 30 years. Cancun is where the main international airport is located. Cancun boasts the biggest and most luxurious hotels in all the Yucatan. There are miles of sandy beach and lots of shopping and nightlife. Further south is the Maya Riviera. A combination of white sandy beaches and natural beach.
There are many beautiful resorts along the Maya Riviera and many small cities including Playa del Carmen and Tulum. The archaeological site of Coba is near Tulum as well as Tulum Ruins with its captivating beach.
Further south is the Costa Maya. Rugged, rustic and mostly still untraveled. This is where you go to find total seclusion. Many of the beaches are swimable with white sand and the landscape still unchanged from the last hurricane. The Maya city of Chetumal borders Belize and the area contains some beautiful ruin sites for the explorer not to mention a greater abundance of wildlife and fauna.
West of Cancun is Merida, Capital city of the Yucatan. Once an ancient city of the Maya it is now the hub of economic commerce and trade. Merida is situated perfectly so you can travel to any number of ruin sites. However the closest beaches are on the Gulf of Mexico and you may not want to swim in this water. In fact the palm tree disease has almost wiped out every palm tree and the water is pretty murky, but many people do swim in it.
People go to the Yucatan for any number of reasons. Below is a breakdown of DESTINATIONS to do the following:
BEACHES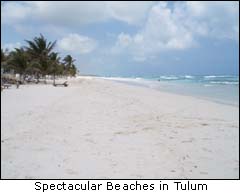 There are public beaches almost the entire length of the Caribbean coast from Cancun to Tulum. White sand, blue warm water and palm trees abound. People love the beaches in Cancun and the Maya Riviera also has a number of clean well maintained beaches. Isla Mujeres and Cozumel are islands off the coast that also have beautiful beaches. Beaches are maintained daily by hotel staff who collect and remove seaweed and garbage that washes up on shore. This is generally done only in hotel zones.
You can be guaranteed that if you select a hotel/resort located on the waterfront or within walking distance, the beach will be to your liking. If not, take a short walk and you should find exactly what you are looking for, most likely deserted.
Some hotels have waiters that will deliver your beverage or snack right to you on the beach. I felt like a millionaire the first time I did this.
Beaches are usually not crowded, simply because there is so much of it that you can always walk to a non-populated section and pitch camp. The Mexican federal Government owns all beaches and you are allowed, by law, to swim at any beach. You cannot however gain access to the beach by walking through privately owned property.
TIP! Natural beach means that there is either coral or seagrass or something else natural in the water. These beaches are generally unsuitable for children unless they are being supervised closely. These, however, are the best beaches for snorkeling.
Swimming conditions are usually okay, however, some days the waves may be too rough for young children. Most resorts fly flags; red, yellow, or green to indicate conditions. The water is warmest late August – September.
The beaches near Merida and Campeche are nowhere as nice as the Caribbean side. The island of Ciudad del Carmen in Campech does however boast of a number of beautiful secluded beaches.
If you are looking for total seclusion and would like to have a whole beach to yourself then go to Majahual which is near Chetumal. If you stay in this region then you can also swim in Lake Bakalar which is beautiful.
There are also a number of cenotes [large holes in the ground filled with spring water] located throughout the Peninsula which you can swim in. These are good on days when it is too windy to swim in the ocean. The majority of these cenotes need some form of transportation to get to them however there is one situated within walking distance to hotel Barcelo on the Riviera.
For more information visit: Beach Information
NIGHTLIFE
In the Yucatan, Cancun rules as the number one entertainment location. Here you will find hundreds of Clubs and bars. Many have live bands and there is also numerous after-hour clubs to keep the party going all night. Prices for drinks vary from club to club. The farther away from the hotel zone you go, the cheaper the drinks become.
Playa del Carmen is also a hopping place and there is of course live entertainment, after-hour clubs and many bars and restaurants. Fifth Avenue is the perfect strip for a pub-crawl.
Merida is a more traditional Mexican city and is much more conservative. I asked a friend who lives in Merida once where all the hookers were as I had not seen any. He told me to go to Cancun.
Campeche is definitely out of the question if your sole intent is to party.
MAYAN RUIN SITES
If this is your first trip and you more or less know nothing about the Maya but wish to visit some ancient ruin sites, then you have two choices: Cancun, and the Maya Riviera. There are of course numerous other possibilities, however, if you are new to this and simply wish to include visiting some sites as part of your itinerary then these two locations will best serve you.
From Cancun you can take a tour to: Chichen Itza, Tulum, Coba and Uxmal.
However if you stay at a location south of Cancun in the Riviera section then you are closer to Coba, Tulum and Xel Ha [a minor site]. You can also get a tour to Chichen Itza and Uxmal from anywhere in the Riviera.
Every hotel/resort can give you tour information or you can take a taxi, rent a car or take the public bus.
If you would like to plan an extensive trip around visiting ruin sites then we recommend you investigate Mayan Ruin Sites to learn where the sites are and Getting Around the Yucatan to learn how to get to them.
ECO
The Yucatan Peninsula comprises three major ecosystems: semi-evergreen rainforest, lagoons and mangrove swampland and offshore coral reefs. The combination of rainforest and mangrove swamps produces an abundance of oxygen as well as acting as a habitat for the over 150 species of birds.

The living breathing coral reefs are a balanced Eco system that protects the coast from tropical storms, steers the current and is home to over 500 different fish species.
Much of the Yucatan Peninsula was farmed at one time or another. It is hard to imagine when you look at it now but hundreds of years ago the Maya occupied the entire region and much of the Peninsula was cleared and not semi-rainforest. If you travel south towards Tobasco you will encounter wide expanses of open fields which give you an indication of what the whole area once looked like, as there are still Mayan farmers working the land.
The Peninsula has many Eco destinations that are open to the public and many that are only known by experienced guides and locals. For the vacationer there are many interesting and fun destinations between Cancun and Tulum in the Mayan Riviera.
For more information on ecology in the Yucatan visit: Ecology & EcoTours
DIVING/SNORKELING
The areas that are most known for diving on the Atlantic side of Mexico are Cozumel and Chinchorro Reef located off the coast of Majahual. Cozumel has been a thriving dive location for years while Chinchorro Reef has just recently become more accessible. There is however no decompression chamber anywhere near Majahual.
There are quite a few dive-shops in Cozumel and Playa del Carmen and a large number of boats to take you out. Cozumel is a great place to dive because the island blocks the ocean current for you. The "wall" is amazing!
For snorkeling there are a large number of coral reefs along the Maya Riviera. Hotel El Dorado has an excellent snorkel beach as does the area of Akumal. We have encountered dolphins, squids, sea turtles, lots of stingrays and hundreds of other fish and undersea life snorkeling the Riviera coastline.
For more information on diving visit: Diving
For more information on snorkeling visit: Snorkeling
ROMANCE
If you are truly looking for a romantic place to pop the question or renew love-vows then Campeche is the place you want to go. Campeche is a traditional colonial city. It is beautiful and the people there take great pride in their official UNESCO heritage city. Most of the hotels if not all are located right downtown near the main plaza so you are within walking distance from everything you may want to do. The best nights to be there are Friday and Saturday. Go and you will see why. Just thinking about it brings a tear to my eye.
SHOPPING
The best place to shop is Playa del Carmen. Cancun has some great malls but you more or less have to travel from mall to mall. Where as in Playa you simply walk up 5th avenue and there are hundreds of stores and numerous small malls. Cozumel also has a thriving tourist zone with hundreds of stores. Price wise you will find all three locations to be around the same.
Merida is also a great place to shop and prices are less than Playa or Cancun. Merida also has more traditional items to chose from.
Campeche, although not a tourist mecca like Cancun, does have many stores offering unique items not found in Cancun or Playa. There is also a large outdoor flee-market within walking distance from the main plaza where you can buy anything from a live chicken to a stereo. Prices are generally much cheaper in Campeche.
For more information please visit: Shopping Tips
RELAXATION
If its simple relaxation and lying in the sun you desire, then stay out of Cancun and find a resort along the Riviera. Most resorts lay alone, miles from anything. Many of the resorts also have large strips of beach where if you want to be alone you can walk to the end and enjoy absolute peace and quiet with maybe only the odd person walking by taking a leisurely stroll. Since these resorts are remotely situated you get no outside traffic and only people staying at the resort are there. Some resorts are adult only.
KIDS STUFF
The Mayan Riviera is the place to stay with children. Here you are close to the two biggest attractions for kids, Xcaret and Xel-Ha. You are also close to Tulum and Coba ruins as well as Playa del Carmen. There are caves here to explore and cenotes to swim in. It is virtually a children's paradise. Most resorts offer extensive "Kid's Clubs" on site.
For more information please see: Kids Activities