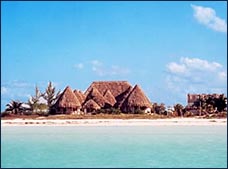 Xaloc Resort is a small ecotourism hotel, located on a white sand beach, in the paradisiacal island of Holbox. The hotel was built combining local architecture based on "palapas" or palm leaf roofs in a rustic style with a warm and cozy design, excellent facilities and fine details.
Xaloc is a member of the "Hoteles Boutique de Mexico", a group of 30 hotels of unique Mexican style, that have been selected and qualified as "boutique" for their intimate size, idyllic location and their personalized service.
Xaloc Resort consists of 18 romantic rooms distributed in 2 groups of 9 rooms built around their swimming pool. Each of the rooms is a bungalow or an individual "palapa", round with a wooden terrace with the traditional Yucatecan hammocks where your siesta feels just great.
Services
Internet
Massages *
Pool (s)
Water Activities
Safe Deposit Box
Laundry *
Beach
* Extra charges may apply
Restaurants & Bars
Maja' Che: At the Maja' Che restaurant besides a la carte service, we offer a half pension, this means your stay includes dinner, it consists of a daily varying menu with four plates: entr�e, cream or soup, main dish (you can choose between steak and fish) and dessert.
Location
Holbox Island is still a paradise waiting to be discovered. It's a very picturesque island with a typical fishermen village and several miles of white sand beaches that disappear into mangroves. It is located at the north of Quintana Roo, 2 � hrs. away from Cancun.
PRIVACY GUARANTEE
Your privacy is important to us. We will never share, sell, or rent information with any persons or organizations without your advance permission or unless ordered by a court of law.
Information submitted to us is only available to employees managing this information for purposes of contacting you or sending you emails based on your request for information and to contracted service providers for purposes of providing services relating to our communications with you.
TravelYucatan.com abides by the Safe Harbor framework as set forth by the United States Department Of Commerce regarding the collection, use and retention of information collected from the European Union by the TravelYucatan.com domain.