Cozumel is the largest island in the Mexican Caribbean. The island is approximately 30 miles [48 km] long and 10 miles [16 km] wide. It is also the most populated island in Mexico, with an estimated population of over 100,000.
Isla Cozumel [or Cozumel Island] derives its name from the Maya who once lived there and regarded the island as a sacred place. The Mayan name Cuzamil translates to "Land of the Swallows," a reflection of the many indigenous birds that inhabit the island. The modern city, which is located on the west side of the island, is called San Miguel. The rest of the island is mostly undeveloped.
Cozumel is situated near the eastern tip of the Yucatan Peninsula in the Mexican state of Quintana Roo. It is within sight of the mainland; about 12 mi [20 km] across the Yucatan Channel from the city of Playa del Carmen, and some 36 mi [60 km] south of Cancun.
COZUMEL HOTEL INFORMATION
There are accommodations on Cozumel to suit every taste, style, and budget. From absolute luxury to budge places for those watching every penny, there's a hotel for you.
Are you here for a scuba diving vacation? Why not stay at a diving resort and get everything organized and taken care of for you!
There are also several all-inclusive resort options and 3-and-4-star hotels with ritzy amenities, multiple swimming pools, and every comfort you can imagine. Several spa resorts and golf resorts round out the plethora of your paradise oasis options.
Due to Cozumel's ideal size and location, there is a wide variety of things to do and see! The island is ringed by incredible coral reefs, so the snorkeling and SCUBA diving are excellent. The western coast of the island (facing Playa del Carmen), has innumerable snorkeling sites just offshore that you can wade into and enjoy.
If you rent a vehicle (we recommend something hardy like a Jeep over a scooter), you can really explore the island and see its many features. The eastern coast is wild, with jagged limestone cliffs, untamed jungle, sandy beaches and scattered beach bars and restaurants. When the waves are good, there is some surfing to be had here. Or stop in somewhere for an ice-cold margarita and some beach volleyball. You can drive the beach highway with the wind in your hair and salt spray in the air. The feel is very sun drenched, relaxed and laid-back.
In the touristy zone back in town, you'll find high-end shopping, nightlife, dive shops, restaurants and cafes. There are several international cruise ship piers with shopping centers as well. You can easily walk or cycle around and enjoy the sights. A boardwalk runs several kilometers on the water's edge and is perfect for sunset strolls.
TIP: Shopping for hard-to-find diving or snorkeling gear? Chances are you'll find it here in this divers' paradise!
Cozumel is a very comfortable and accessible location for families, divers, honeymooners, and retirees alike. You have a lot of freedom to create your own vacation experience, ranging from rustic simplicity to posh perfection.
GETTING TO & AROUND COZUMEL
Cozumel has a small international airport with connecting routes to Playa del Carmen, Cancun and other destinations in Mexico, Belize and Guatemala. Direct flights from Canada and the US are increasingly becoming more popular.
Getting to Cozumel from Cancun Airport
If you are landing in Cancun, you need to travel to Playa del Carmen and then make your way across the channel to the island. Your options are:
Take an ADO bus to Playa del Carmen
Take a taxi* to Playa del Carmen.
Take a bus to Cancun (city), then take a taxi to Playa del Carmen (this is doubling back on your route but a good option if you already plan to visit Cancun)
Take a car across on the ferry at Calica.
* Taxis are not allowed at the airport but sometimes you can get one when the taxi is dropping somebody off. They are not allowed to hang around.
From Playa del Carmen you take the ferry to Cozumel.
The most common method of transportation to the island is by boat. Several ferry services connect Cozumel to Playa del Carmen for pedestrians and there is a car ferry service out of Calica cruise ship port (south of the city of Playa del Carmen), for vehicle transportation. The ferry connecting to Playa del Carmen runs quite frequently and is a comfortable, affordable option. Currently there are 3 ferry companies traversing the Yucatan Channel.
Once you're on the island, it's not hard to get around. Taxis are well-marked and plentiful. Shuttle vans and buses are also available for transportation. There are dozens of car rental agencies where you can typically rent a Volkswagen rag-top bug, Jeep, or scooter. If you plan to shop and snorkel from the main downtown core and not beyond, you can easily walk everywhere you need to go and find everything you need!
Being the large island and international vacation destination that it is, Cozumel has plenty of gastronomic delights to offer. There are specialty cafes, chocolate shops, ethnic fare, tasty Mexican cuisine, gourmet dining and fresh seafood and tacos with no frills. The options are nearly endless. Enjoy a food tour or culinary tour, a unique excursion that you'll love if you're a foodie!
Restaurants on the western coast of the island (there are hundreds), catch the spectacular sunset over the Caribbean Sea. Some have fire dance shows or live musical performances to enhance the experience. Whether you prefer to keep your toes in the sand as you enjoy a casual meal or you like to be wined and dined in elegance, you'll find what you seek. That's part of what makes Cozumel so special–its versatility and adaptability.
The seafood on the island is of course delicious and fresh, especially the grouper, barracuda and lion fish. International cuisine, vegetarian and vegan options abound as well.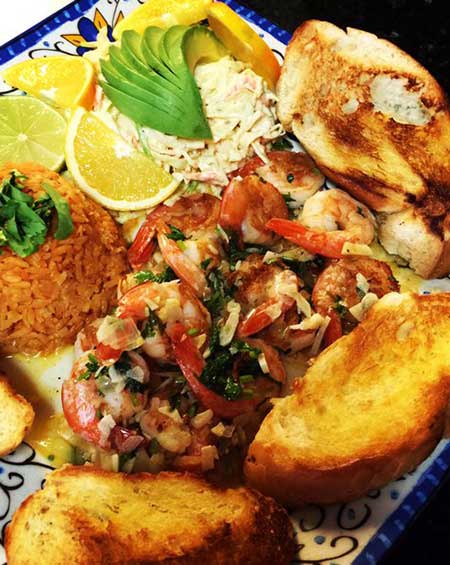 The island has all number of beaches, ranging from rocky to sugary soft. The western side of the island faces the mainland and is protected from harsh currents and weather, whereas the eastern side is open ocean. (The nearest land mass to the northeast is Cuba, 300 km / 186 miles away.)
Unlike nearby Playa del Carmen, Tulum and Cancun, Cozumel does not have an abundance of soft, powdery beaches. Its charm is in its limestone and coral shelves that stretch out into the ocean, with white-crested waves crashing on the east coast and crystal clear water on the west coast.
There are stretches of beautiful sandy beaches, though, as you move southwards. If you long for a wild, undeveloped beach where you'll feel like the only person on the planet, find your favorite spot on the western coast. Driving the highway there is an exhilarating experience!
TIP: It's a good idea to bring aqua-shoes for some beaches if you plan on wading in to snorkel. Protect your feet from craggy exposed coral and sea urchins that nestle in the clefts. It's beaches like these that often have the best snorkeling.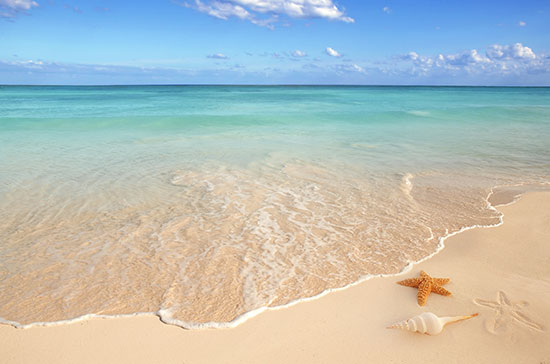 There is a pretty vibrant party scene on the island, in the city of San Miguel. It's not on the same level as Cancun and Playa del Carmen but you'll find a lot to do, including salsa clubs, discos, and bar hop tours. There's a Hard Rock Café, Senor Frogs, as well as numerous local options that are beach clubs by day and night clubs when the sun goes down.
Some tour packages offer a day/evening tour of the local restaurants and clubs where you can enjoy the gorgeous ocean views, have a drink or two and a meal and several spots on the island.
Several of the resorts and larger hotels have their own disco club with live DJs as well.
THINGS TO KNOW
Cozumel is the right size–not too big and not too small. With several international cruise ship piers, there are millions of visitors annually. Hence there are a lot of modern conveniences like high-end shopping, great restaurants and cafes and a well-developed infrastructure. It's really a fun blend of modern glamour mixed in with authentic Mexican style. It's a contemporary city but has a special island charm all its own. The city's main square is haven for local events night and day, and a gathering place for merchants, artisan vendors, taco stands, etc.
Outside of the city of San Miguel, most of the island is wild and undeveloped, with large sections of mangroves and jungle. The scenic eastern side is open ocean. The western side of the island is sheltered and is excellent for snorkeling, and sometimes has strong currents to be aware of.
If, like most visitors, you arrive by ferry in Cozumel, you'll be met by a barrage of sales representatives for car rental companies and various dive and snorkel operations. Also in the mix are representatives for hotels and resorts, often with photo-albums of resort pictures to entice you. Once you get through this bustling section, you are in the city of San Miguel, right in the middle of the turista (tourist) shopping zone.
TIP: There are public information booths, however these are manned by sales representatives for time-shares. Once you ask a question, you are a step away from a free lunch, tour and a wasted day [don't get trapped into this]. Pass through the ferry terminal, cross the street and you'll find a legitimate Tourist Information office.
The San Miguel tourist zone extends from the coastline inland several blocks and runs north/south several kilometers, with a seaside boardwalk. Outside of this you have the cruise ship piers, residential neighborhoods and general industrial zones. There are a few large grocery stores, a cinema, and airport as well. In the downtown core, most stores and restaurants have English-speaking staff and accept US currency.
The town of San Miguel, the airport, and the hotels are all located on the western side of the island. Nearly all the streets and avenues are one-way. The coastal highway is two-way and nearly circles the island. Fortunately, massive resort development is paralyzed by a lack of potable water and strong desire on the part of the citizens to protect the island's delicate ecosystem.
TIPS & INFORMATION
Cozumel Seasons
Generally, the summer months (May – September), are low season and hotel rates are reduced competitively. In the winter months (December – March), prices go up and availability goes down.
TIP: If you have a specific date in mind for your winter getaway, it's best to book at least 6 months in advance.
Between Labor Day and Christmas is an good time to visit but keep in mind that September and November are within Hurricane Season. Crowds and prices are down but the temperatures are still high! Easter is easily the busiest time of year, with low availability. Low season unofficially begins after Easter.
Cozumel Climate
Average air temperature: 79°F [26°C]
July/August – High 80's to low 90's °F [32°C]
December/January – Mid 70's °F [24°C]
Winter Months: Cold fronts may create windy, cloudy and cool weather. Afternoon thunderstorms are common, usually lasting for an hour.
Water temperatures range from 77°-82°F [25°-28°C] throughout the year.
Evidence suggests that the Maya settled the island over 2000 years ago, harvesting the rich abundance of seafood for commercial use. Conch shells were collected as an ingredient for stucco and mortar, which was used extensively in construction projects on the mainland. The ocean also supplied a large variety of valuable items such as shark teeth, stingray spines and seashells that were used for religious rites.
There are a number of Mayan ruins on the island that are still in relatively good condition.
The Spanish explorer Juan de Grijalva first landed on the shores of Cozumel in 1518. A year later, the notorious conquistador Hernan Cortes stopped by Cozumel on his way to the gulf state of Veracruz. Both encounters were reportedly peaceful but ultimately damaging to the Maya.
Whether the Spanish knowingly and deliberately imported smallpox is a matter of speculation, however, the disease soon eclipsed the Maya island dwellers. Between 1519 and 1570, the island's population dropped drastically. Also, the island's numerous coves provided safe havens for marauding pirates and much of the local population was evacuated to the mainland for protection from the predatory pirates. By the year 1600, the island was desolate, its once flourishing community virtually gone.
Later, during the "War of the Castes" (1847-1901), the island was reclaimed by the Maya and became a refuge for escapees from the mainland. Slowly the island was re-inhabited.
In more modern times, the popularity of a novelty called chewing gum in the USA led to the island's growth in prosperity. Cozumel was a Central American port-of-call on the coconut and gum (called chicle) export route.
With the advent of more modern scuba diving equipment in the 1950s, divers from around the world started flocking to Cozumel. World-famous oceanographer and explorer Jacques Cousteau and his team discovered the wall of reefs just off the island's shoreline and declared them to be one of the most incredible diving destinations in the world. After that diving blossomed on the island!
By 1970, Cozumel's population had grown to 10,000 and with the influx of tourism this once desolate island has now become the jewel of the Mexican Caribbean.
Submit your Cozumel review

     
Sep 28, 2016
Spectacular Diving!
Cozumel is a beautiful place to go diving for beginners and experienced divers.
I saw so many vivid beautiful colors while diving there. It was spectacular!
I went down there with my husband and we had so much fun! We rode a little motor scooter around everywhere.