Isla Holbox (pronounced Is-la Hol-bosh) is a beautiful, laid back island found just offshore from the Yucatan Peninsula about 40 miles northwest of Cancun. Its name, which means 'black hole,' probably in reference to the dark-colored water of the lagoon, does little justice to the beauty of this island with its white sand beaches and tranquil turquoise waters.
Once a well-kept secret, Holbox has been gaining in popularity in the last few years. However, its location relatively far off the regular tourist track means that it isn't overflowing with tourism and retains a relaxed local feel.
The island is just 42 kilometers long and 2 kilometers wide and boasts 36 kilometers of beautiful beaches. There are no cars on Holbox and locals get around on foot, by bicycle or by golf buggy. The sandy streets of the little town center are lined with colorful houses and peppered with a few laid-back restaurants, bars and shops.
With no high-rise hotels and no cars, Holbox is a great place to come to switch off and truly relax in a natural paradise.
ISLA HOLBOX HOTEL INFORMATION
In keeping with the small-island feel, there are no high-rise hotels on Holbox. Most of the hotels are on the beach front, with areas set upon the sand, but some can also be found in the town. While finding a cheap hotel on Holbox isn't always easy, the options do range from camping and hostels to luxurious honeymoon getaways with many boutique options in between.
Travelers will not find a more unique beachfront boutique hotel experience than what can be found in Holbox!
THINGS TO DO ON ISLA HOLBOX
Holbox has 36 kilometers of long white sand beaches with calm turquoise seas, so it is unsurprising that the main activity on the island is relaxation. Swim in the sea, swing in a hammock, grab a great book and let the laid-back vibe win you over.
If you prefer to explore and be active however, Holbox also has a wealth of interesting things to do. Swimming with whale sharks is one activity that brings many visitors to the island during the winter months when these gracious creatures migrate through the waters. There are also a wealth of watersports such as kiteboarding, windsurfing, kayaking and fishing that visitors can enjoy, as well as tours to the local Yalahau Spring and Bird Island.
You can explore the Holbox by bike or golf cart and the sandbars give visitors a great option walk out to the sea, collecting shells and observing the marine life up close.
GETTING TO & AROUND ISLA HOLBOX
Part of what keeps Holbox the quiet paradise that it is, is the fact that it is not overly easy to get to. The island can only be reached by ferry unless you have the funds to charter a plane or a helicopter.
The ferry leaves for Holbox from the small fishing village of Chiquila, which is located in the north of the peninsula about 135km from Cancun. You can take the bus, drive, or use a transportation service that will handle everything door to door. If you drive, there are a number of secure parking lots where you can leave your car at a low daily rate (roughly $50 pesos).
Two ferry companies serve the island (9 Hermanos and Holbox Express) with a boat leaving approximately once every hour from 6am to 9.30pm. The sea crossing takes about 20-30 minutes and is usually a smooth journey.
Upon arrival to Holbox, taxis in the form of golf carts await to transport you to your hotel if necessary.
There are no cars on the island, but you can rent a golf cart ($17 US per hour/ $70 US per day) or bicycles ($3 US per hour) or simply walk from place to place along the sandy island streets.
Being an island, Holbox's cuisine is rich with fresh fish and seafood. Local fishermen serve the restaurants and hotels, so getting the 'Catch of the Day' on any menu is pretty much guaranteed to be a great, fresh option. Lobster is popular on Holbox as well as octopus and red snapper among other fish and seafood. In fitting with the laid-back island vibe there are a few small eateries run by locals that serve honest, flavorsome and good-value food. Recently, some great sushi places have opened up on Holbox as well as a few larger lively restaurants and even a couple of fine-dining establishments. For the sweet-toothed there are now also great ice cream and gelato places on in town.
Visitors can expect the freshest seafood right off the fisherman's boat for each beachfront dining experience.
The main Holbox Beach sits just a short walk north from the town center and is peppered with hotels that are set back from the shore. It is great for long walks and the sandbars out at sea allow you can keep walking even when the beach seems to end. Far down the beach you will find hammocks in the water, which offer a rather unique experience.
While Holbox Beach is probably where visitors will spend the most time on Holbox there are also some other smaller beaches like Punta Mosquito, which is a great place to see flamingos and Punta Coco, which boasts the perfect sunset viewing spots.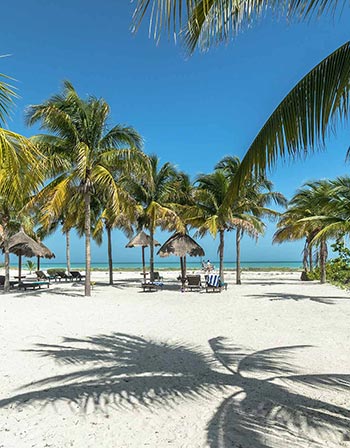 The Whale Shark is the world's largest fish and can commonly be found in the waters of the Gulf Of Mexico near Isla Holbox during the months of June to August. Thousands of visitors to the region participate in the viewing and swimming with these magnificent creatures.
Swimming with, or just viewing, these magnificent creatures is a highlight to experience during your Holbox visit.
THINGS TO KNOW ABOUT ISLA HOLBOX
VISITOR INFORMATION & TIPS
There are a couple of ATMs on the island and many hotels and larger restaurants take card but it is worth arriving to Holbox with enough cash for your stay just in case the ATMs run out or the electricity should go down.
Both Mexican pesos and US dollars are accepted on the island, but smaller establishments may prefer pesos.
The island residents are prepared for tropical storms and all precautions have been taken to ensure total safety for all island residents and visitors. In the event of a natural weather occurrence, you would be evacuated or well taken care of if you stayed on the island.
Cell phones work on the island and most hotels have wifi although if the weather is bad the wifi can be patchy.
Isla Holbox is the jump-off point for tours to see the Whale Shark, the world's biggest fish.
HISTORY OF ISLA HOLBOX
Once a strategic port for the Maya and part of the Ekab Chiefdom that extended around Cancun and the islands offshore, Holbox was rediscovered 150 years ago, by pirates, who sought out the fresh water Yalahua spring in which to cool off after long voyages.
Arriving at such a paradise, many pirates decided to stay on Holbox and they married some of the local women. The resulting seven families still live on the island to this day but have now been joined by people from around Mexico who have chosen to make the island home.
For many years Holbox was a sleepy fishing village, with generation after generation of the men fishing and taking their catch to sell on the mainland. However, the rise in tourism and the decline in fish in the area has seen islanders turn away from fishing and toward the tourist trade in order to make a living.
ISLA HOLBOX TRAVEL ARTICLES
Submit your Isla Holbox review

     
Aug 06, 2019
Transfer from Cancun to Isla Holbox
When we arrived in Cancun, we went outside to find our van driver to take us (4 of us) to a ferry in Chiquila that would then take us to Isla Holbox.  Angel was there with my name on a card.  He took us to our private van, put our baggage in the back, and we embarked on a two-hour drive to Chiquila for the ferry.  There was a storm along the way, and it was pouring rain at times, but Angel kept us on track safely.  When we arrived at the ferry (luckily the rain had stopped), Angel arranged for our ferry tickets, as well as someone to take our baggage to the ferry (a bit of a walk).  When we arrived to Isla Holbox, there was someone there to greet us and direct us to two golf carts.  The drivers took us to our resort.  With all of the transfers, I was so worried that something would go wrong.  Well, NOTHING went wrong!  Everything went so smoothly, and we couldn't have asked for anything better!  I would recommend Travel Yucatan anytime!