MAYAN RIVIERA ATTRACTIONS
The Mayan Riviera abounds with exciting things to do. You can easily fill a one week itinerary, have no problem filling two weeks and if you have lots of money you could even fill up a month and still have things left to do!
Most people on a one week visit tend to choose a ruin site, go to either Xcaret, Xel-Ha or Xplor, go into Playa del Carmen at least once, maybe visit Cozumel, snorkel or dive, eat drink/party and relax on various beaches.
There are no shortage of beaches in the Mayan Riviera, lots of shopping, numerous restaurants and nightclubs [mostly in Playa del Carmen], and great places to snorkel.
If its more shopping you want then take a ferry to Cozumel which has lots more stuff. The snorkeling and diving is also world-class in Cozumel.
Mayan ruin sites are also located within a short drive from anywhere on the Riviera. There is Tulum and Xel-Ha on the coast. Inland not far away is Coba and Punta Laguna. A further drive but well worth the trip is Valladoid and the great Chichen Itza. You can either take a colectivo, bus, tour or rent a car to get to these locations.
Located not far from Playa del Carmen is the magnificent Xcaret, which will thrill both young and old. It is a Mayan Eco Disney World. You can spend a whole day there, easy. Not far away is the fun Xel-Ha Eco Park which has excellent snorkeling. For eco enthusiasts there are also;
Aktun Chen Dry Cave and Jungle Tour, located just South of Akumal,
Yaax Che Jardin Botanico, located just South of Puerto Morelos,
Sian Ka'an Bisphere Reserve, located South of Playa del Carmen.
There are also caves and cenotes all over the place. A cenote is a whole in the ground with spring-water in it. You can swim/snorkel/dive in the cenotes and the experience is quite memorable for divers. The caves are exciting and many were used by early Mayans to seek refuge from severe storms.
All over the countryside are small towns and pueblos with shops and stores for you to visit. You can get great deals at many of these places located in the middle of no-where. If you are renting a car and driving in the interior you will encounter many of these.
There is Mayan stuff everywhere as the Mayan culture is still alive and thriving in this part of Mexico. There is also an Azteca influence, however, this is only in the commercial sense as the Aztecas are from the north of Mexico, when in Playa you are in Mayan territory. There is of course trade between all states of Mexico so goods from outside the Mayan world are present as well.
Cozumel is less than an hours ferry ride away and the snorkeling and diving there is fantastic. Cozumel also offers an alternative to shopping in Playa del Carmen. You will see much of the same stuff in Cozumel but you will also see things not sold on the mainland in Playa, Cancun or anywhere else.
At night Playa del Carmen rocks! Many of the bars along the strip have bands ranging from reggae to salsa to traditional Mexican. The Cubans are even starting to appear which is a good sign that the music scene in Playa is going to take off.
You can stroll from bar to bar then hit the after hour clubs which are quite lively. They are located on the beach and will have anything from fire dancers to bongo bands performing.
THINGS TO DO IN AND AROUND THE MAYAN RIVIERA
Click Name for Additional Information
Jungle Maya Tour
Are you ready for an extreme expedition? This exciting adventure tour in the Riviera Maya features a unique combination of the best recreation this area has to offer, from swimming in underground rivers and cenotes to flying on zip lines over the lush Mayan jungle. Experience an array of thrilling activities and a traditional Mayan purification ceremony, all in one unforgettable excursion that you just can't miss!
Here you can experience Jungle Zip-lines, Rappelling, Cavern Snorkel Adventures, Skycycle Canopy Ride, and a Cenote Splashdown Zip-line... all the while surrounded by the lush Mayan jungle.
Rio Secreto Tour
Experience a fantastic adventure in an incredible natural wonder of the Riviera Maya. It starts with a shuttle to the natural reserve, driving along a thrilling jungle road. Then, you will meet highly experienced guides who will explain everything you have to know about this mystical experience.
The Mayan Riviera boasts many world-class golf courses.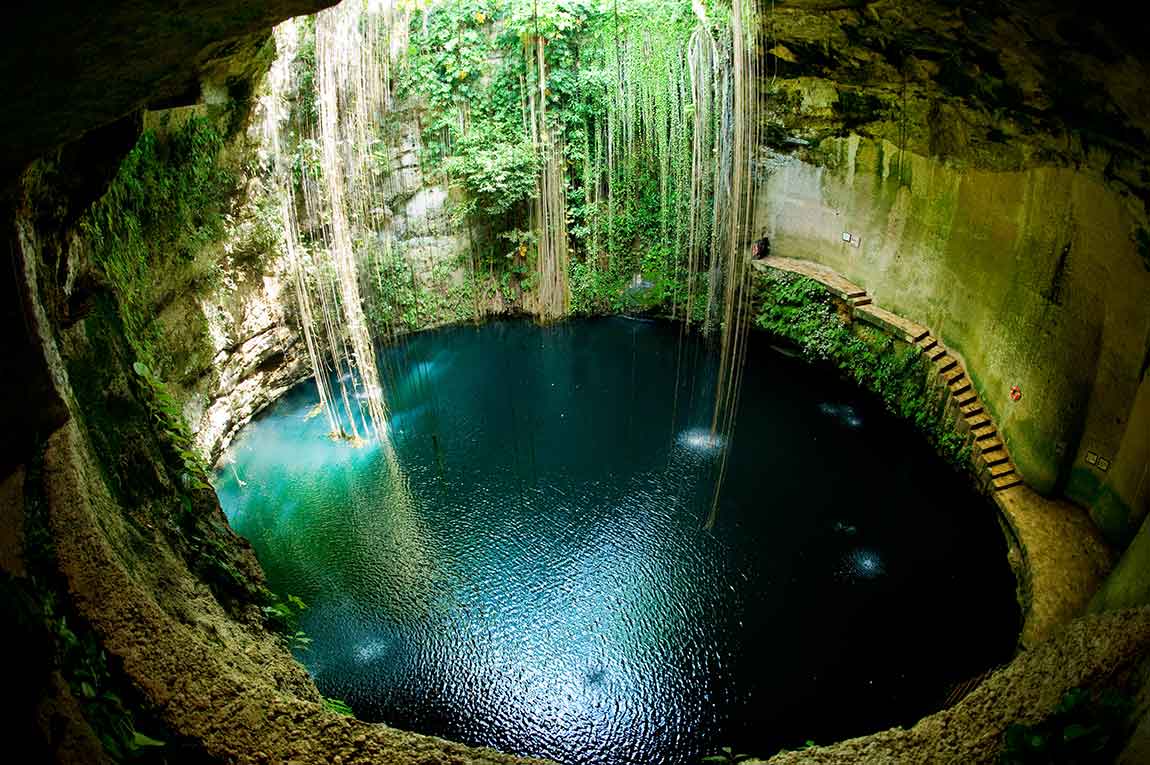 Natural limestone and coral wells that lead to underground rivers, caverns and cave systems. They provide fabulous views of stalactite and stalagmite formations, halagtites, rim pools and a rainbow of coloured tropical fish.
We offer a fabulous Cenote adventure tour that explores 4 popular cenotes on the famous Ruta de los Cenotes near Puerto Morelos.
In the jungle between Akumal and Xel-Ha. Beautiful underground dry caves with stalactite and stalagmite formations and a spectacular fresh water cenote. You might even be lucky enough to see spider monkeys. Poisonous and non-poisonous snakes can be seen at the serpentarium.
Off-Road Side-by Side Tour
If you loving the adrenaline rush that you get from driving ATVs, then Off Road Ride is one place that you shouldn't miss on your next vacation to Cancun or the Riviera Maya. This tour is an opportunity to drive your own vehicle on a track with impressive curves, jumps, and mud, and surrounded by lush vegetation. You'll also have the option to ride ziplines and practice your marksmanship by shooting paintballs at targets while traveling at high speeds.
The Cedam Maritime
Museum in Puerto Aventuras houses an interesting display of various artifacts and wreckage from shipwrecks along the coastline. The museum can be found at the northern end of the marina.
Deep Sea Fishing at Night
Would you like to fish for your own dinner? Come and enjoy this unforgettable experience of night fishing aboard our boats, sailing the tranquil and gorgeous Caribbean waters. You'll find an array of tropical fish such as Snappers, Sharks, Groupers and Barracudas. We guarantee you a dinner of the freshest fish you've ever eaten!
Horse Back Rides
Cancun and the Riviera Maya offer a rich natural setting unlike anywhere else in the world. This Horseback Riding Tour allows you to be in close contact with the nature and animals found in these exotic destinations. You'll explore the jungle with family and friends while admiring the area's wildlife and stunning scenery.
Home to exotic birds including scarlet macaws, flamingos and herons. Xaman-Ha is in the development of Playacar.
Swim and snorkel in the fresh water of this aqua coloured lagoon in Akumal. Entrance fee.
From Playa del Carmen you are a 45 minute ferry ride to the island of Cozumel. Going to Cozumel makes for a great day for fun as there are some interesting Mayan ruins sites, lots of shopping and good snorkeling.
Akumal is located just south of Playa del Carmen and is the place in the region for snorkeling. Akumal has beautiful beaches, restaurants, dive shop and Yal Ku Lagoon is located there as well.
Xcaret is like an Eco Maya theme park. We just love this place. It is a paradise for children and you can spend the whole day there.
Some of the attractions include a reenactment of a traditional Maya ballcourt game, butterfly pavilion, traditional Mexican dance and music, small zoo and much more. The swimming here is excellent and the water theme park rivals Disney World; in fact we think it is better.
Xplor is part of the "Xcaret" eco park experience, but is considered a separate park.
Located right next to Xcaret, Xplor offers visitors additional adventure experiences such as zip-lines [there are 11 in the park], Amphibious Vehicles, which you can drive on top and under the earth and other water activities.
Just south of Tulum is the beautiful Sian Ka'an Biosphere Reserve. The reserve has an abundant amount of flora and fauna and several distinct natural ecosystems.
The reserve contains unexcavated Maya ruins, freshwater canals, cenotes, mangroves, lagoons and inlets.
The fishing village of Boca Paila is within the reserve. The town of Punta Allen is the end of the Maya Riviera found at the southern tip of the reserve.
Click on the title to explore the private Sian Ka'an Biosphere tour we offer.
More Things To Do in Riviera Maya >>
MAYAN ARCHAEOLOGICAL SITES
Playa has a few small Mayan ruins. There are some right on 5th Ave. and a few in Playacar, which is a short walk from 5th Ave. near the ferry docks. The ruin sites that you can visit outside of Playa del Carmen are Chichen Itza, Ek Balam, Coba, Xel-Ha, Tulum, Muyil and Punta Laguna.